HAIR & MAKEUP | ARTIST INTERVIEW ///
Brit Tarr has such a light hearted approach to hair & makeup; and life actu ally! She is friendly and dis arm ing. She has an adven tur ous spirit and is whim si cal to the core. You can see from her inter view that she loves peo ple and truly enjoys play ing a small roll in the weaving of two lives becom ing one. Maybe that's why she loves braids so much! This is more than a career for her, it's a pas sion. It's what she did for her friends early on and now does for her client's turned friends. Get to know the sweet hearted and tal ented Brit Tarr!
I always wanted to do hair. And as my friends started getting married, they asked me to be the one to get them ready for their big day. I loved being able to hangout in the morning with all the girls while we all got ready. It's just a sweet time.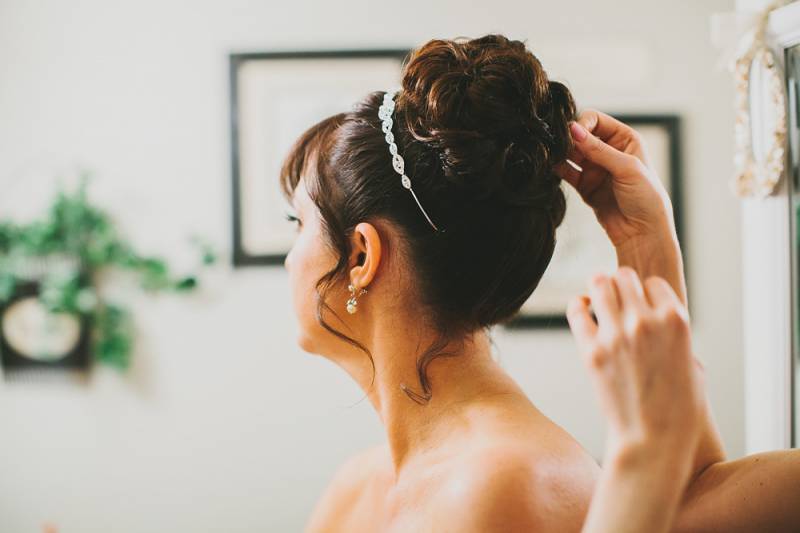 Who or what continues to inspires you?
My brides! As the styles change each year for weddings, so does the hair and I love making my brides dream hair a reality.
What makes your business unique?
Doing hair and makeup gives me a rare opportunity with my job. I have personal contact with my clients. They give me their trust right when I meet them. Thats a special connection that I recognize and cherish.
How would you describe your ideal couple?
Laid back and just excited to seal the deal with their most favorite person in the world. I love when they make their wedding day their own, in their own style. Sweet little touches that decribes them as a couple.
Favorite part of a wedding?
When the bride walks down the aisle to meet her best friend. Or now a days, the first look. Its such a sweet moment.
Why do you do what you do?
I love being apart of LOVE!
What question do you always ask the Bride & Groom?
Are you going to smash your cake in their face? Ha Ha
How do you normally begin your day?
I usually make some tea and check on my garden. I have intentions to go for a run but I usually dilly dally too much and then before you know it, I have to get ready for work!
What would you say is your greatest accomplishment?
I just recently hiked Half Dome. That was the coolest and most scary thing I've done in a while! What an intimidating piece of God's creation! Woo!
What do you enjoy doing on your day off?
Recently, I've been getting back into painting but I also like to hike, garden, go to the beach or just hangout with my house mates.
Tell us about your first job?
My first job was a bagger at Albertsons! Then worked in the bakery all for a total of 4 years. High school jobs.. gotta love em'. I actually got really good at writing on cakes with icing. It was fun! And now as an adult I do like to bake and my love for cookies has never changed.
OK, tell us your Nickname(s)?
B, BB, Britters, Stoops, and my personal favorite... not! - La Brittney Tar Pits. Get it? ha. ha.
Tell us one thing few people know about you?
I'm a twin! I have an awesome brother named Luke. We have an older brother and sister as well.
Wedding trend that your loving right now?
Braids! I love incorporating braids in the styles my brides want. Could be too that I just love braids. :)
Wedding trend that will hopefully be out next year?
Do brides still do 'trash the dress' photo shoots?...
My dad always would say 'Be the best you can be.' It's not really your epic quote but it has stayed with me since I was young. He's been saying that my whole life so it's forever engraved. Now I'll probably end up telling my kids that the rest of thier lives... Ha ha
What do you miss most about being a kid?
Oh my gosh, just playing all the time! Our next door neighbor was our best friend. We just had so many kids on our street, it was so much fun!
What's in the top 5 of your bucket list?
1. Hike Half Dome *Check*
4. Road trip across America
5. Learn another language
Where do you see yourself (or business) in the near future?
Next year I'm hoping to get a YouTube channel going with hair and makeup how tos!