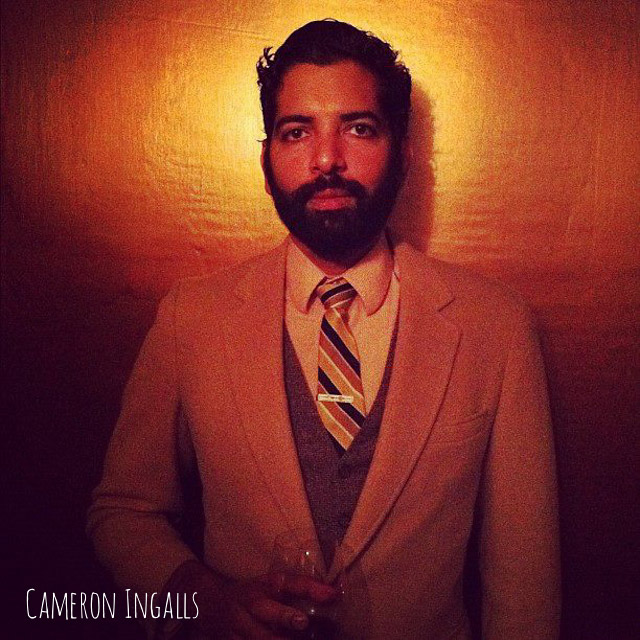 DJ | ARTIST INTERVIEW ///
I'm excited to share about the pure and undefiled awesomeness of Malik Miko Thorne. I feel like he is one of San Luis Obispos best kept secret. He is a tall skinny curly-haired character who is often seen riding his bicycle downtown or selling music at Boo Boo Records. Most everyone who has lived in San Luis knows or has seen Malik. He is kind, unassuming and soft spoken. He is also an amazing wedding DJ. I have worked quite a few weddings with him and have been impressed with his organized and calm demeanor and more importantly his wealth of musical knowledge. If you looking for a DJ who flies under the radar to deliver a soundtrack that will set the perfect tone for your wedding, than you have to have Malik!
How did you get started spinning tunes?
If you are a fan of music you just inevitably fall into it I think. I was the one at college parties who would bring all of my own CDs and I would change the CD player every 2-3 songs. As a kid I would make my own mixed tapes. -Like holding up a portable tape recorder to the television. I would make mixed tapes from solid Gold, American Band, Soul Train. I've been musical since like 2nd or 3rd grade. It wasn't that big of a leap. In retrospect it was a natural progression.
How did you get to where you are now; DJing weddings and working at Boo Boo Records?
While I went to school at Poly I fell into working at their radio station, KCPR, met all of these great people, and was able to dive bomb into music of all sorts. From Indie Rock to Reggae to Metal. They have such eclectic taste there and you meet these people that you normally wouldn't associate with. I fell into that and got my start in radio and then eventually got a job at Boo Boos. Its weird because I could do something else that's more career minded. I've got friends with kids and mortgages who are working jobs that they don't love. I feel fortunate that I get to just do what I really love.
When did you first DJ a wedding?
A friend asked me to DJ his wedding. At the time I had turntables; I was doing little house parties and Public Radio. So, I did the wedding for free and was able to get my feet wet. I started seeing things that worked out and things that didn't. I knew every bodies taste ahead of time and It was a blast! Once I did one or two; guests started approaching me and asking me to do their weddings.
How long have you been doing weddings?
I would say 7 years off and on. When I first started I wasn't doing that many. It began to snowball and now I do about a dozen a year. Its nice because I get to meet a lot of great people.
Im horrible at the marketing aspect. I love music. Put me behind a DJ set and let me do my thing. The business side is the part I am still learning. I recently purchased some new software and a laptop which helps out having more music on the day of. If someone walks up and wants the Beach Boys I have it, where as before if I didn't have it in the crates of records I brought I would have to simply apologize. But now I have a surplus of music. That's why I ask lots of questions before I do a gig so I know what to bring.
How has working at Boo Boos helped as a resource to being a wedding DJ?
I talk music. I can understand music. I hear more things. I interact with customers. I see what people are listening to. All those small threads weave together at a wedding helping me to be able to pull something out of nowhere because I realize that it will work perfectly. Its just about being around what I love.
How do you get your business then?
Mostly word of mouth. If I do a DJ gig those who like what they hear find out about me.
So how does your interview process work with your clients? How do you figure out what their style is?
I just ask as many questions as I can. Not everyone knows what they want. Some couples have outlines for the whole day, others do not. So I bring up everything, do they want a money dance? Really, I talk about the day -the amount of time, do they want the ceremony miked, what type of music do they want for dinner? I come with experience. I know what I like to hear so I can suggest music. But I want to see what my clients have to offer. Some people are sharp on their music while other people know what they like to hear, but have trouble putting it into words.
So you help them figure out how to make the soundtrack to their wedding basically?
I would like to thing so! I make people tell me exactly what they want to hear. I stay away from genres. Popular doesn't work. Old school doesn't work. I want them to say, I want Frank Sinatra, this song. I want Michael Jackson, this song. Because once they say that, I can immediately start thinking of 3 or 4 songs that go around that song. Once I do that I have a little set of music that can be a good 30 minute set; which is a good amount of time. So If the couple gives me a few more songs, I can start building little cones, I start seeing patterns. I can build a whole set.
It kinda is like math. I was really good at math at one time.
Do you do any mixing or scratching during a reception?
For weddings I think that scratching takes away from the dance floor. It's a percussive noise. Most people just want to hear the song. I can mix in and out of songs. If Im doing a house party or a DJ set downtown where its what I want to play the mixing is a little different. I can do sets ahead of time, its more dance music, I play a steady beats per minute that's pretty high. Weddings you shift so wildly between playing Popular music to Motown and jumping fast into 80s music, that I just put everything together as appropriately as I can. I do arcs and curves. I go from a slow song to a little bit faster song. I build more on musical tempos so that it all fits together really nicely.
What would you say your style is?
I try to stay away from songs that are really popular. There is so much music out there that I try to think outside of the box. For dinner music I try to play Brazilian music or Afro music or Jazz; something that's upbeat. People always think mellow is good for dinner music. But when people are sitting down for dinner talking they are not really focused on the music so all they can really feel is the vibe or tempo. If I keep the vibe bubbly and upbeat they feel bubbly and cheerful. Dance music is the hardest thing. I have to ask as many questions as possible. I love Old Soul, Funk, Motown, and 80s music. I bring an arsenal out of songs that I think always work. Rarely have certain songs ever failed me. But I want to know what they want to hear.
Once I booked a wedding where early on I didn't meet with the bride. The groom knew me and said, I love you -do your thing! Day of the wedding comes, the bride is Persian. Her family wanted Persian music. I never talked to the bride, so I didn't know. They luckily brought Persian music so I put it on for them. Instantaneously they got up, they danced around and brought everybody into the mix. Lesson learned. I have to find out more about the people who are coming, more about the family members.
I had another wedding where the couple told me they had an aunt who was really picky and bossy. Day of the wedding I'm playing Frank Sinatra and this woman comes up and says I hate this song, what are you playing, can you change it? I was like, It's Frank Sinatra. I never thought anyone wouldn't like Sinatra! So I figured this was the aunt. She asked what else I was going to play that night. I told her slyly, I don't know, maybe some Rolling Stones? She was like, Really?! Rolling Stones? I love the Rolling Stones! A few songs later I played and she got up to the dance floor. She was happy! Its those small tid-bits of information that I try to pull from people.
What kind of Personality do you bring to the wedding day?
I'm not Mr. Entertainment. I never try to be. I always hear about people complaining about wedding DJs that talk the whole time. I'm there to do the music. I'm not there to talk to the audience. The music is there to entertain. That's what I know the best. I'm pretty reserved in that aspect. I just try to stay calm through the day and take my time so that people feel that the music was flawless.