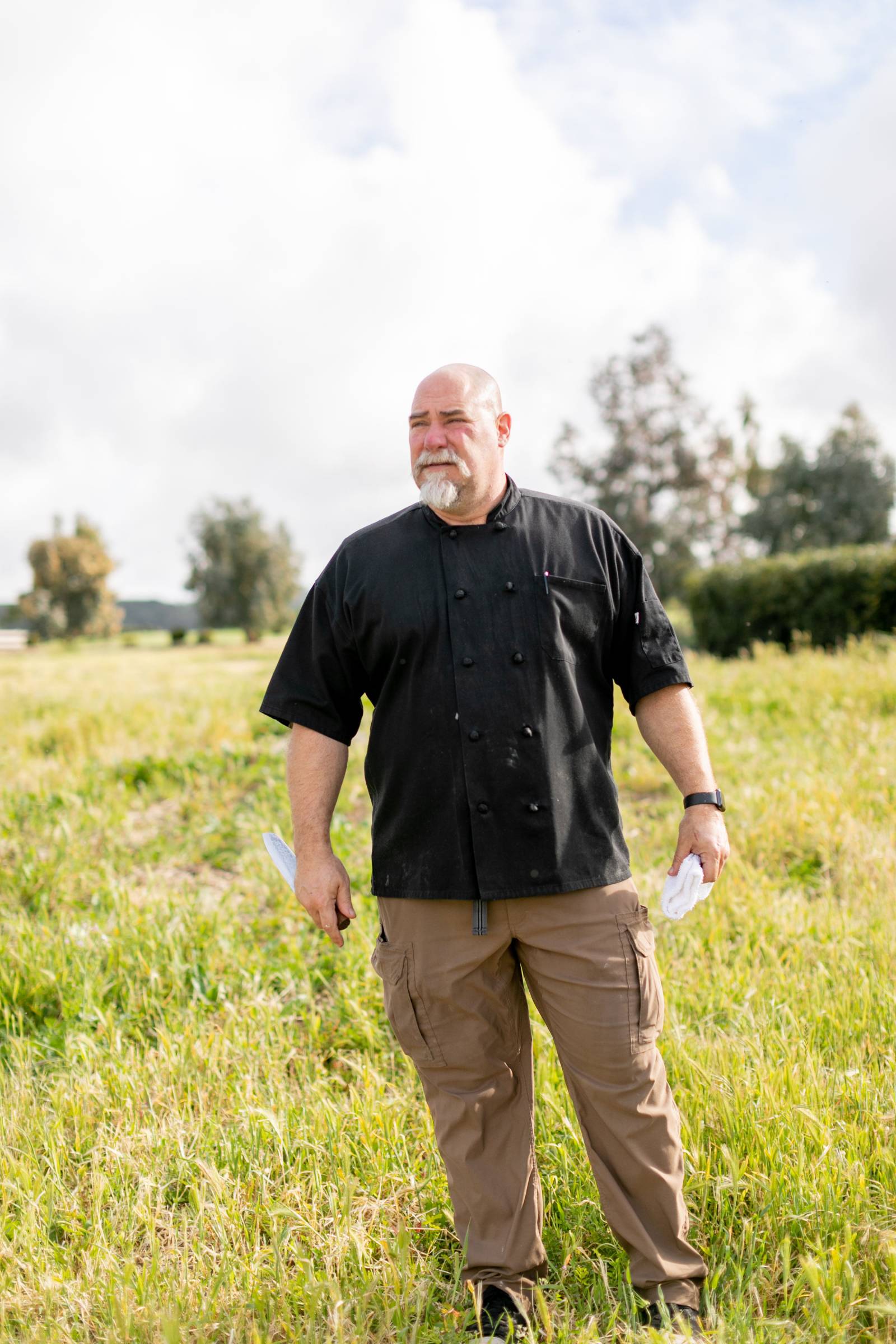 SLO Brew Rock's head chef, Thomas Fundara (aka Chef Tom), has been all over the map. Born and raised in California, Tom decided to move away to go to acting school in Santa Fe. After getting his degree, he realized that he wanted to pursue his passion for cooking, so he moved to San Francisco where he rode his motorcycle into Sausalito for work. After a few years, Tom and his wife moved to New York City, where they spent six years exploring the city and all of its culinary delights. When they had a baby, they decided to move back to California and settle in Paso Robles.
His love for cooking and food stems from his Italian family heritage. He would spend summers and holidays at his dad's house in Sonoma where "food would be the center of everything." His philosophy on food was inspired by these family gatherings. Chef Tom believes that "the food itself is not nearly as important as what it facilitates between people and how it connects and brings us together." This mentality has held true for all he does at SLO Brew.
"People are happiest when food is not the focus, but the glue that's connecting the entire event."
Chef Tom is the mastermind behind all the food and catering at SLO Brew Rock along with the menu for their new distillery that's set to open soon. Tom also serves as the chef of catering for SLO Brew's Gatherings. These "gatherings" are special events including including rehearsal dinners and wedding receptions..
He likes to encourage couples to choose a rehearsal dinner menu based on what they love to eat, and then cater the reception towards what they think their guests would like best.
"Tonight (rehearsal dinner) let's do it for you guys. It doesn't matter what your mom wants. It doesn't even matter what your grandma likes.If you want mac and cheese, I'll make you the best version of mac and cheese. If you what foie gras let's do that. But don't cook for them now, cook for you because you'll remember this dinner for the rest of your lives."
When it comes to the reception he always recommends family style. He believes that it "breaks the fourth wall, forcing your guests to interact with each other" making the wedding more of a "dynamic experience." Another, more practical reason behind family style dinners is the fact that an individual plate will always get colder quicker than a larger platter.
"Food allows us to connect one human to another."
Chef Tom wants people to feel comfort and nostalgia when eating his dishes, not for them not to pull out their phone and Instagram it first.
His "food sensibility is much more about what's happening with the people opposed to making the food into something that it's not." While he agrees that trendy food and flower garnishes are interesting, he questions "is there anyway I can connect to these foods in a comforting way?"
"Every single one of us loves McDonalds french fries, we hate ourselves for it, we don't want to like them, but there's a comfort to eating those french fries."
If you want mouth-watering food and a chef that will be real with you, Chef Tom is the man for you.