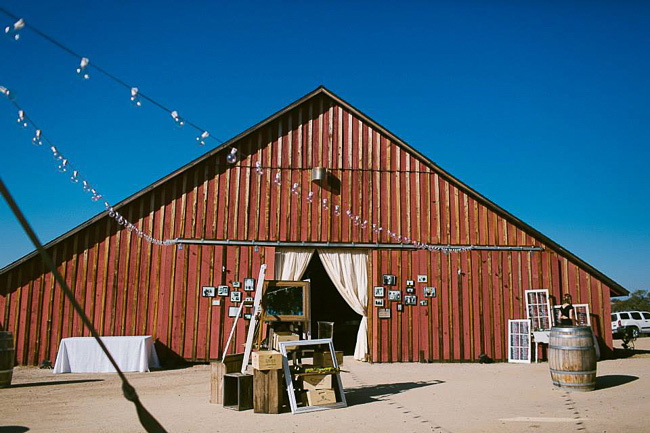 Vintage Ranch is tucked away in the rolling golden hills of Paso Robles. A bold red barn, rows of vineyards and a giant oak sprawling it's branches over the ceremony site are some of the features that make this ranch the perfectly rustic spot to say "I do".
What is your venue's history?
Vintage Ranch is the private home/vineyard/ranch of my parents Curtis & Sonja Lockshaw, and where I grew up. My best friend asked if she could use the ranch as her wedding location, and they agreed. I myself was married here as well as a few other friends and family. After some of them were featured on wedding blogs, we started having phone calls for people to come see our "venue". It was quite surreal! We decided to put some work into the property, create a website, and I came on last year to really help turn this into a business.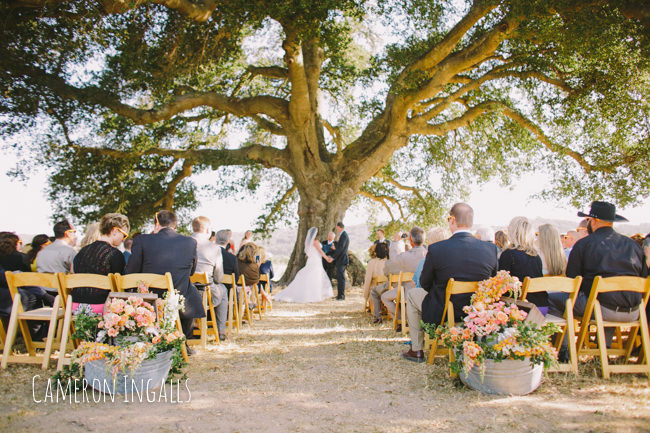 Describe your atmosphere and feel...
Describe what makes your property unique...
Our property has a little bit of everything. The rolling hills, 40 acres of vineyards, a 300 year old oak tree, and a vintage red barn. It's a naturally beautiful spot that feels intimate but has plenty of space. We are a blank slate for ideas, and really encourage our clients to make the space their own. Because it is our family home, we really like our couples to feel like family as well. I think that makes for a more personal event when you can connect to your venue on an emotional level.
We have had events with up to 250 people, and I think that is the max we can allow to keep the logistics manageable.
What ammenities come with the venue?
You get use the oak tree in the vineyard for the ceremony, and the barn and surrounding area for the cocktail hour & reception. We include bathroom rentals, golf carts for transportation, and trash pickup in the site rental fee. We offer the entire property for use 2 days before your event and one day after. This really allows you to come in and transform the space to your vision without the stress of a strict timeline. We also have an old olive tree grove that we allow brides cut branches off of to use in their floral designs. Lastly, we have a TON of decor items, vases, and props that we allow couples to use in their decor, complimentary.
Our ceremony location is under a 300 year old oak tree in the center of the estate vineyard. It's absolutely breathtaking and is a great backdrop for photos.
Do you offer your venue for rehearsal dinners?
We do offer our venue for rehearsal dinners, and its free if you are having your event here!
Do you have an on site coordinator?
It is not included with the site rental, but we do offer the service for an additional fee. We require that you hire someone for a day of Coordinator that is not a guest of the wedding.
What rentals are included?
Do you offer any overnight accommodations?
We have a 4 bedroom, 4 bath farmhouse that can be rented out for the weekend, as well as a 1 bedroom cottage that we offer for 1 night complimentary.
Do you have a suite for the bride and her girls to get ready in?
We have a 1 bedroom cottage that we offer complimentary for the bridal suite. You can also rent out the main house for a small fee if you are not already renting it for the weekend.