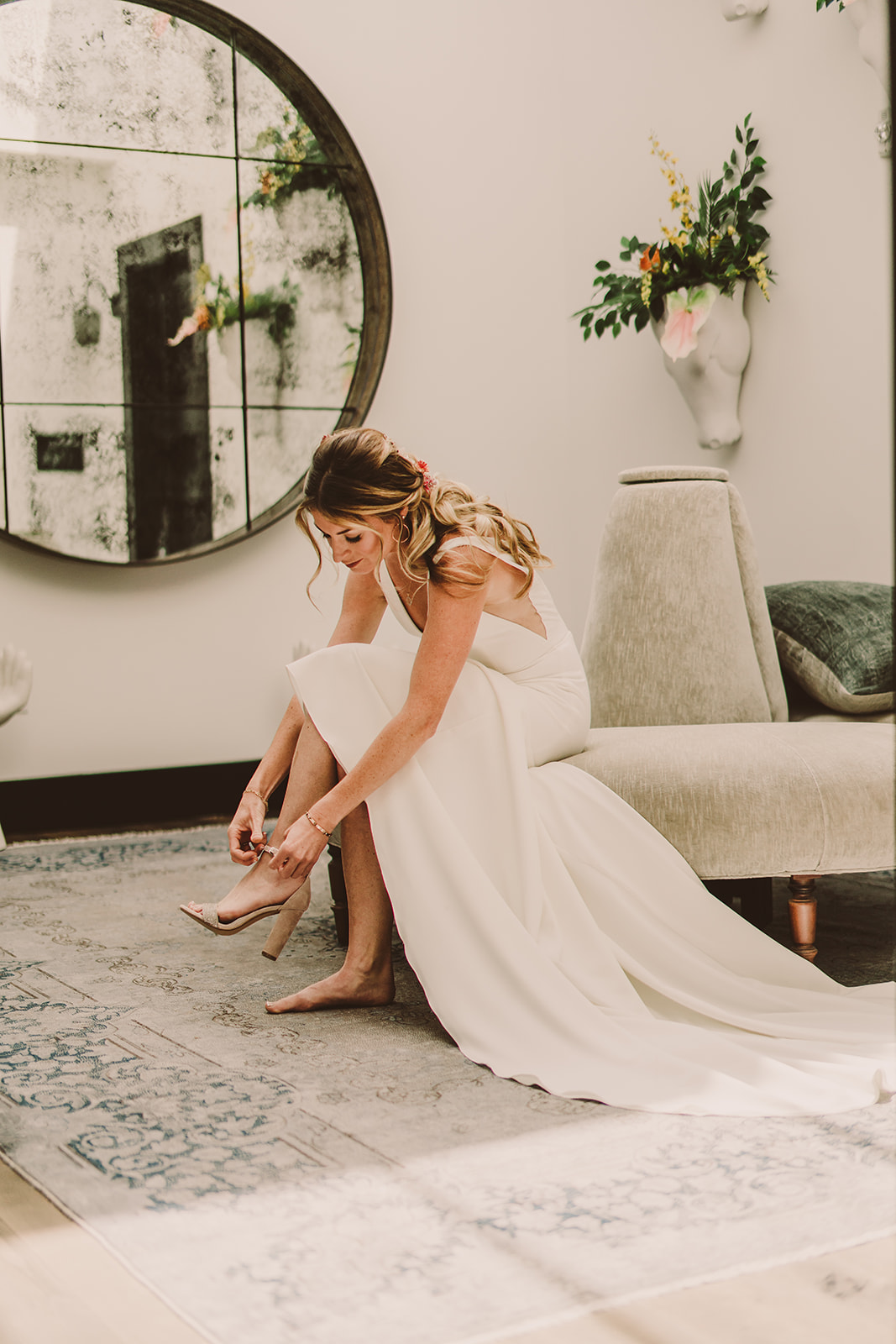 There is no wonder why this wedding was filled with all things festive, Nat and Lauren have been adventurous since day one of their relationship! Roaming around the states, growing a bound through their love of travel and adventure, they have curated a unique relationship and love for one another. While the couple's ceremony took place at the Mission in San Luis Obispo, they ventured off to Oyster Ridge for the reception, where Grace Lorenzen helped their dreams come true. The day was filled with a live band during cocktail hour, a variety of 12 different beers, and stunning florals just to name a few! Michelle Roller captured the couple's day from the best candid moments, detailed shots, and more! Take a peek at the day below.
Girl meets boy!
Nat and I met in a class in water law at the University of Colorado, Boulder. We spent our first weekend away camping in New Mexico. Within a few months, we decided to road trip to Alaska for the summer. Figuring our relationship was pretty solid after a 3,000 mile road trip, we moved in together and after graduation moved to Anchorage for good. A year later we got engaged (with the help of our puppy Waylon) at the beach. Shortly thereafter we traded the subarctic for Santa Monica. We got married in September at the Mission in San Luis Obispo in the same church where my parents were married.
Wedding Planning Inspiration
We love hiking and camping so we knew that we wanted our reception to be outdoors. Growing up in SLO it was especially important to me that oaks were a part of our big day, so Oyster Ridge was a perfect fit. We wanted everyone to relax and have fun, while enjoying great food, music, drinks, and the beautiful surroundings. We've both valued the places we've experienced and we wanted to incorporate elements from each of them into our wedding. For example, we offered craft beers from 12 of the places we've lived or travelled, to share one small piece of our own experience with our guests.
Color Palette
Mustard yellow, burgundy, green and dark blue.
The Details
Coincidentally, Nat and I both have deep affinity or traditional blankets. His family, from the Northeast, has passed down Hudson Bay blankets for a long time. As a Westerner, and as someone descended from Native Americans, I've always loved the incorporation of blankets into life events and own several Pendleton blankets. Our wedding planner, Grace Lorenzen, incorporated several of our blankets into the decorations in the barn. As a result, the DJ had a really sweet backdrop.
Memorable Moments
At the beginning of the reception we had a happy hour under a giant oak at Oyster Ridge. We hired a band, Bear Market Riot, to play. They provided a fantastic backdrop for everyone to socialize in the sun, to drink blood orange margaritas, and to occasionally take refuge in the shade provided by our beautiful trailer bar. One of our cousins brought our Irish Setter, Waylon, for a short visit with everyone. While the wedding parties took occasional pictures, everyone had the chance to enjoy the vineyards in the late afternoon sunlight, to renew friendships, and begin new ones. Because we were married at the Mission, where the service is traditional, we wanted to say something personal to each other. So, we got on the band's microphone at the end of our happy hour and made personal vows to each other in front of all our friends and family.
Raddest Wedding Vendors
All of our vendors were incredible. Field to Table cooked and served a family-style Mexican meal that was exactly what we were looking for. Our florist, Katie Noonan, from Noonan's Wine Country Designs, met our poorly articulated requests in such a perfect way that I felt she had read my mind. She and Grace together made every table look spectacular. Tinker Tin provided a beautiful trailer for the happy hour. Our photographer, Michelle Roller, put us at ease during pictures and managed to capture both our happiness and all of the things we found special about Oyster Ridge. So many guests commented on how good Bear Market Riot was, and we agree. Our DJ, Danny Steil, of Cultivate Entertainment, played fantastic songs and was so responsive, even to the point of quickly taking a 4 year old's sudden request to improvise a short speech. Finally, we threw so many kinds of beers at our bartenders, Copper & Chrystal, and they served our guests happily and quickly.