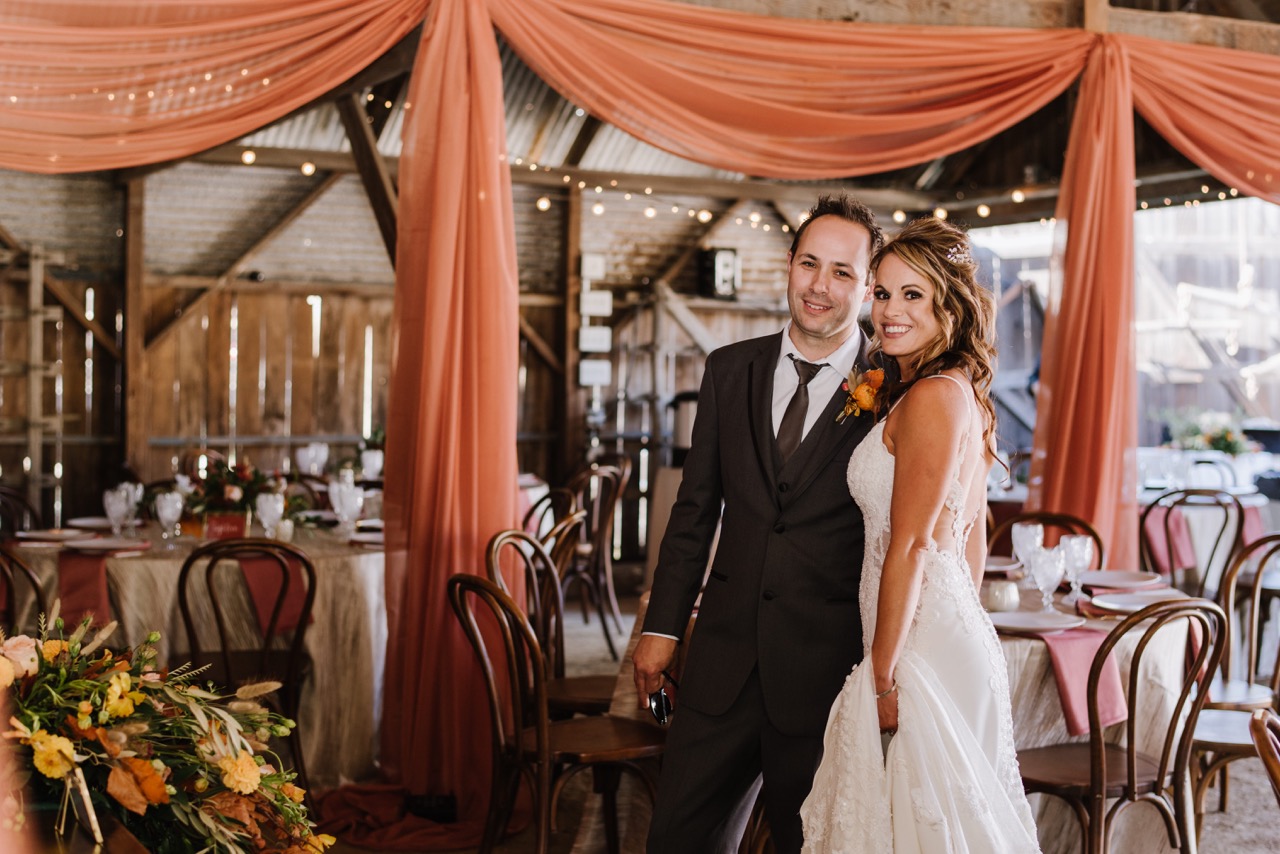 You might have already booked the venue of your dreams and officially set your wedding date - but now it's time to make decorating decisions. Drapery has become one of the most fail-proof methods in effortlessly transforming a venue from something you love to something straight from your wedding dreams. Selecting the perfect fabric, color, and drape placement are some of the most vital elements of perfecting this decorating trend.
When Tracey Costa and Blake Jones planned their special day, they knew they wanted to use elegant drapes to enhance the rustic nature of their San Luis Obispo venue, Loma Grande Ranch. With the help of Central Coast vendor, Draping by Kim, their wedding visions turned into a refined reality with an immaculate peachy wow factor.
Scroll on to see how Draping by Kim utilizes drapery to dress up a venue space!
To create the perfect atmosphere for a wedding reception, Kimberly Lahargou from Draping by Kim began with curating this astonishing grand entrance.
From the designer, "Creating a large dramatic entrance using the tall drapes along with the existing architectural feature (barn doors) really helped to set the tone. With this design element, the guests were able to transition from an ordinary to an enchanting wedding experience."
The party should always get started before your guest enter the reception room, and we love how Kim executed this!
How did you make the couples vision come to life?
"Tracey was very open to utilizing her color palette to enhance the rustic nature of the building. This was such a treat as it allowed us to place some rich-colored drapes on the inside and outside of the rustic barn. This gave the space an updated feeling and really pulled her design elements together!"
How did the wedding design express the couples love story?
"Choosing bold and confident colors really reflected the love and passion they have for each other and life!"


How did this wedding differ from any other wedding you've done?
"As a designer, being given the opportunity to express my craft using color is a true treat! I loved that Tracey had the confidence and trust to add bold coloring to her wedding. It was a true reflection of who the couple is and I am happy to have participated in their big day."


Describe a moment from the wedding day that stuck out to you.
"Looking at the pictures from Tracey and Blakes's wedding, you could just see how happy they were. Since Tracey is the owner of Heart Melting Events, a wedding planning company, she was able to pick vendors that she knew could carry out her vision and give her peace of mind on her big day."