Veronica and Tyler's beautiful beach elopement was simple, sweet and full of love. The boho-style elopement was captured by San Luis Obispo photographer Shea B Captures. I was able to interview the bride about her love story and how this day came together.
Keep scrolling to see the stunning photos and hear the details.
Their Love Story
"My husband I both worked at Target. I met him his last day of work, since he was moving away to San Francisco for school. So a few weeks later, I saw him back at Target shopping and he asked me out, and a week later he asked me to be his girlfriend. So he ended up not going to school in San Francisco because he said he wanted to be closer to me. Fast forward in 2021 of December before Christmas, he proposed to me and it was the cutest thing ever. It happened in our living room, he decorated and had this whole set up displayed for me when I got home. A few weeks later we were finally deciding when we wanted to get married and since I just had moved into my place he wanted to be able to move in with me and wanted to marry me first. So in January 2022, we decided that we wanted to elope in March. Tyler and I are the same person it's so crazy that our likes and dislikes, and our connections and beliefs, are just so aligned that that's what made one another fall in love with each other even more and everything about him just makes me fall in love with him every day."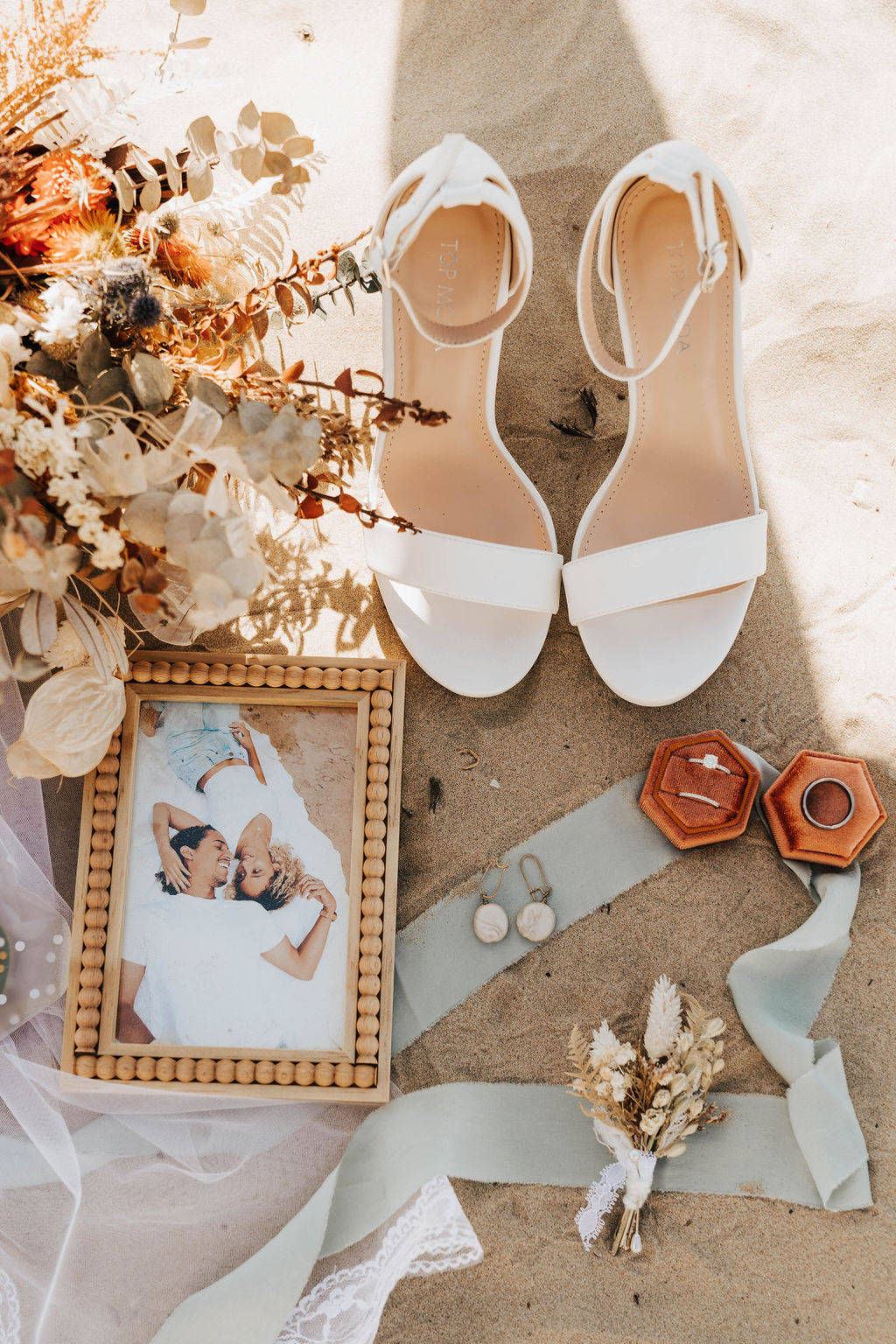 Color Palette
Beige, Sage, and Cream
The Details
"My wedding style was definitely based off of my style at home and how I dress so I was very much inspired by Boho and some neutral colors for my wedding. So a lot of my decorations I already had at my house I just took to the wedding since it was a small elopement of 20 guests, I really didn't need a lot of thinking and planning for my special day. My dress was definitely inspired by Stevie Nicks for sure since I love her music. And then we were kind of just on a budget and we definitely hit a nail on our budget. And I'm so thankful for my in-laws and my parents to help me create such a special day for my husband and I."
Memorable Moments
"My favorite memorable moment of my wedding would be our first dance since we danced to a few of our favorite songs played by his brother on a guitar. That moment was just so intimate and special to me and it made me so warm and fuzzy inside. Ending our day together with our photographer was very special to us as well and I wouldn't have asked for a better photographer to capture our special day.
The thing I was super excited about was our intimate photos. Since I am a photographer I love photos and Tyler is just already super photogenic, hence why we are a great pair. I was just so thrilled that my photographer captured our love so effortlessly on the beach and they came out so great. I also was just super excited for all of my family and my siblings to be a part of my day because Tyler and I have decided in the beginning that it was just going to be just the two of us and our witness and the photographer but we came to a conclusion to have our family a part of our elopement so that's something super exciting as well."
Knowing what you know now... what advice would you have for other brides planning their wedding?

"I think some advice that I can give brides would be if you're wanting to do a small elopement like I did, it is possible to celebrate just the two of you or you and family. And I would suggest drifting your decor whether that be vases, rugs, florals or hitting your department stores for certain things that are on clearance. It is such a plus and such a pocket saver and I wouldn't have gone any other way. It may sounds like a lot of stress but let me tell you finding your own stuff, your own spice, in your own style is such an easier way"