Delaney and Shane's enchanting day full of love turned into a colorful creative cocktail hour that turned into disco cowboys dancing in the moonlight. This backyard wedding was blooming in vibrant florals and DIY projects that represent the couple's personality to a T. The event was located at Delaney's childhood home, The Vintage Schoolhouse, an old schoolhouse built in 1891 that was then since renovated into a beautiful victorian home with a large fairytale-like yard that includes a gorgeous pool, gazebos, an apple orchard, a spacious yard where the reception tent was placed, an array of floral bushes with buzzing butterflies and humming birds, a makeshift garden and pumpkins lining the area of the ceremony aisle. There was even a night-blooming cereus (cactus) that only blooms every few years, and it grew 15 gorgeous flowers the night before the wedding - leaving Shane, Delaney and their families to believe it was a wedding day miracle. With their love of the outdoors, wild spirits, and long-lasting relationships with many friends and family, the wedding was nothing less than a dream. I interviewed the bride to hear more of her favorite details of the day.
Keep scrolling to hear their wonderful love story and see the timeline of their day unfold.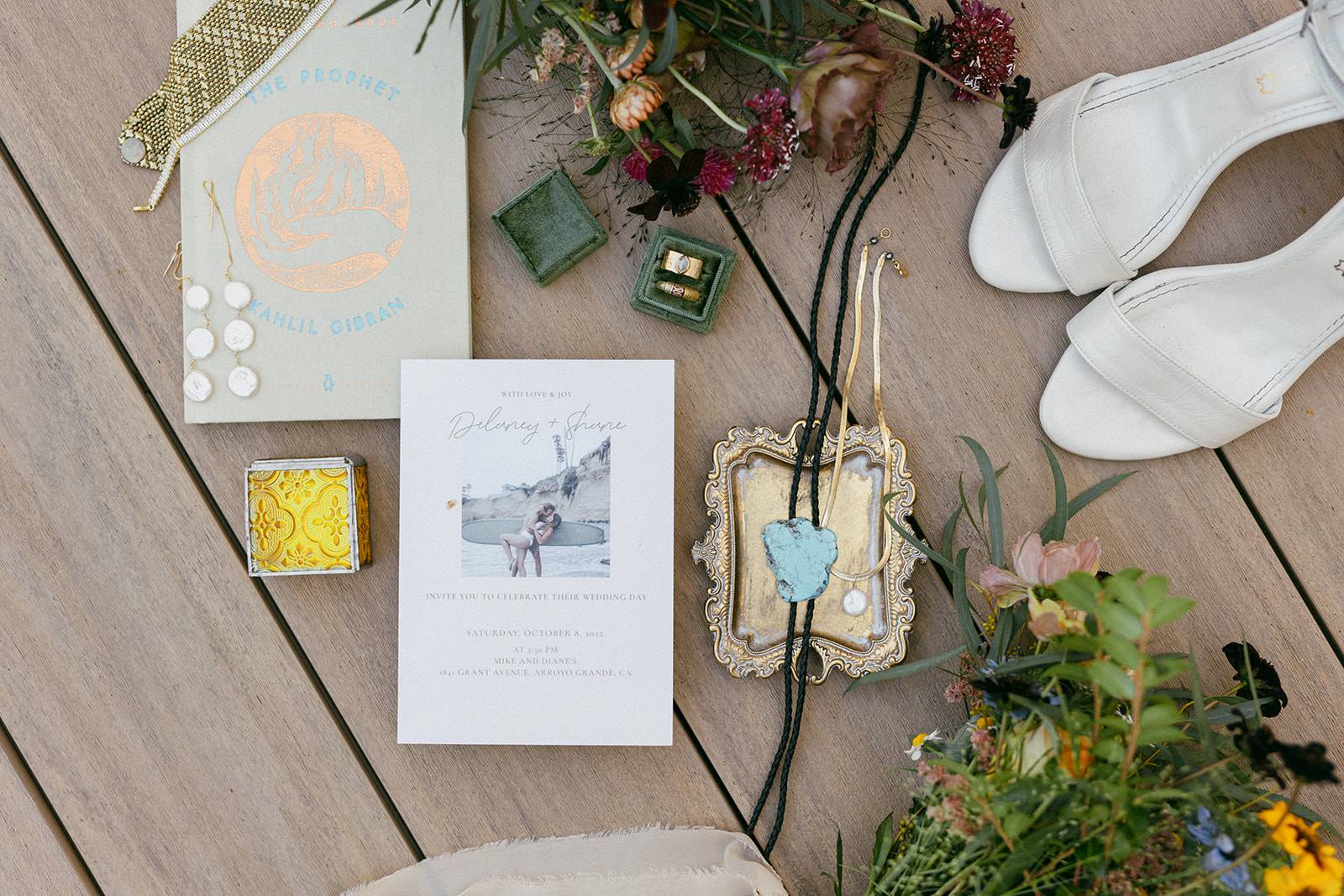 The Inspiration
"Backyard, endless summer feels! October is my favorite month in California. It has an endless summer feel because it's still warm. My parents garden is a bounty of fresh fruits and veggies and the harvest gave a perfect abundant, vibrant, lively feel."
Color Palete
"All the colors!"
Their Love Story
It was a warm October in 2015, Delaney had plans to attend a concert, but couldn't find anyone to go with her. She decided to go solo, which turned out to be the best thing that could have happened because she made herself available to meet a lot of new friends, including her future husband! It was just like the movies - picture a dark, smokey room, music playing in the background - they saw each other from across the crowd. She danced her way through the crowd toward Shane and placed herself to his left. To Shane's utter delight, the beautiful girl he noticed moments before broke his dance trance with a "Hey, I think we should be friends!" Shane agreed without hesitation. They spent the rest of the night dancing in the moonlight. At the time Delaney was living in SLO and Shane was living in Santa Cruz, so they spent a month having deep talks over the phone. Delaney decided to take Shane camping at her favorite secret spot in Big Sur, a beautiful forested nook on a cliff over the ocean. The first night camping they said I love you and the rest is history. Two home van-builds, three different zip codes, four years of living together, and a six week road trip sealed the deal - it was time to get hitched! Shane popped the question on top of a mountain in Mammoth at the end of their road trip around the western U.S. while their friend Sean Farkas captured some romantic proposal photos. As hard as Shane tried to make it a surprise, Delaney had a sneaking suspicion. After two years of graduate school, San Diego living, a prolonged engagement, and a lot of wedding planning during a pandemic, the lovebirds finally got the wedding of their dreams!


The Details
"I picked a garden theme because I had my wedding in the backyard of the house where I grew up. It happened to be that I grew up at a historical old schoolhouse, and the backyard was already breathtaking. With willow trees, an apple orchard, a vegetable garden, and wild flowers galore. In October, the pumpkin patch was thriving, the apples were at their prime, and the wild sunflowers were blossoming everywhere with monarch butterflies to compliment. It was perfect, especially with Tarnish and Bloom, my florists touch. I told Ashley, owner of Tarnish and Bloom, what my vision was "a garden wedding with colorful wildflowers everywhere" and its safe to say she delivered. Going with a boho, backyard, colorful theme my aunt also helped me find fun lanterns for the trees to light up at night, and colorful vases for the farm tables. A Touch of Honey had the perfect colorful velvet couches for underneath a wisteria-covered trellis. My bartender matched the theme with a strawberry lemonade vodka, and a purple-hued hibiscus margarita. My caterer, Dining under the Starrs, added a bright saffron rice, multi-colored roasted carrots, with perfectly cooked steak with chimichurri and honey-glazed salmon. I can taste it now and my mouth is watering!"
Memorable Moments
"My favorite parts of the day were the ones that weren't planned. My planner, Kristi Dibbern, did a wonderful job laying out the day from start to finish. But it was the moments that I could never premeditate that blew me away the most. As cliche as it is, our vows were a top moment for us. Getting to pronounce our love in front of all of our loved ones was absolutely unreal and I could have never predicted the amount of love and presence that was felt in those moments. Another moment was when we were announced to our reception, our guests formed somewhat of a love tunnel for us, feeling like rockstars, we ran through it as they hooted and hollered. I could go on and on, my sister catching the bouquet and my friends and family giving her boyfriend an earful for it, tossing cookies into the crowd after our cake cutting, and to top the night off on the dance floor our friends lifted us up and we crowdsurfed!! We stayed up until about 6:30 am! I would live this day over and over. Best day of our lives hands down."
Knowing what you know now... what advice would you have for other brides planing their wedding?
"Tackle one thing at a time, and do everything ahead of schedule. Keep your wedding week as open as possible for rest and visiting with loved ones. prioritize sleep on the night before your wedding. Hydrate!"
What was the most challenging part about planning your wedding?
"Pressure, expectations, and opinions from family and others."