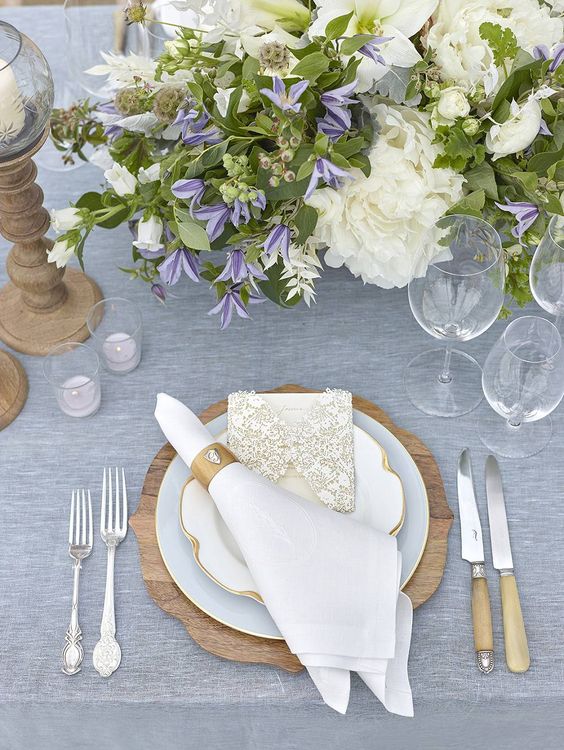 When it comes to your wedding day decor, the tablescape at your reception is one of the most important and fun ways ways to elevate your event and create an impact. Guests will be looking at this for a large portion of the evening, and by using a unique linen that fits your aesthetic, you can start at the little details such as your napkin fold.
Paying attention to your napkin fold can enhance your look and help play off of the overall feel you are trying to create. From contemporary to classic folds, how you display napkin and pair it with the other design elements such as paper goods, florals, or dinnerware can help promote a cohesive look throughout your wedding.
Rectangular Fold
A timeless yet simple fold is the rectangular fold. This is perfect for a classic design and can be the perfect frame for your wedding menu. Try turning this horizontally for a completely different look.
Square Fold
If you would like to go for a more crisp, modern look, try using a square napkin fold and create a statement with the mixed proportions of your place setting.
Single Pocket Fold
Adding a fold such as the single pocket fold is a great way to bring the napkin and the menu together, yet simple enough to work with any look.
Thick Rectangular Fold
The best part about the rectangular fold is that it is timeless, but can be executed in many different ways. By creating a slimmer fold with your napkin, you can create a clean look, as well as add dimension by leaning your menu card up against it.
Knotted Napkin
If working with a softer linen, adding a knot can give your place setting more of an effortless look, bur refrains from being too casual. The placement of this old can add an additional shape to catch ones eye.
Rolled Fold
This look is simple but effective with dressing up your table design. Adding in a fun ribbon or even leaving it on its own is sure to make a statement.
Draped Napkin
This tasteful fold creates a beautiful look and is a great option whether you have plates at your place settings or not. Adding the draping over the table edge can add a polished look to your design.
The Wrap Around
If you want to make sure your napkin is visible to add a nice contrast to your table decor, try using the wrap around fold. When using this fold, you can lay it either horizontally or vertically, however make sure you properly match it with you paper goods so they do not compete.
Make a Point
Fold your napkin into geometrical shapes such as a hexagon or pentagon is a classic and chic look. With this fold, adding on a monogram or crest is a great way to add a personalized touch to your decor.
The Effortless Look
Adding a relaxed and effortless fold like this can beautifully dress up your design. Try tying with a ribbon, placing it under your plate, or even leave it as is.