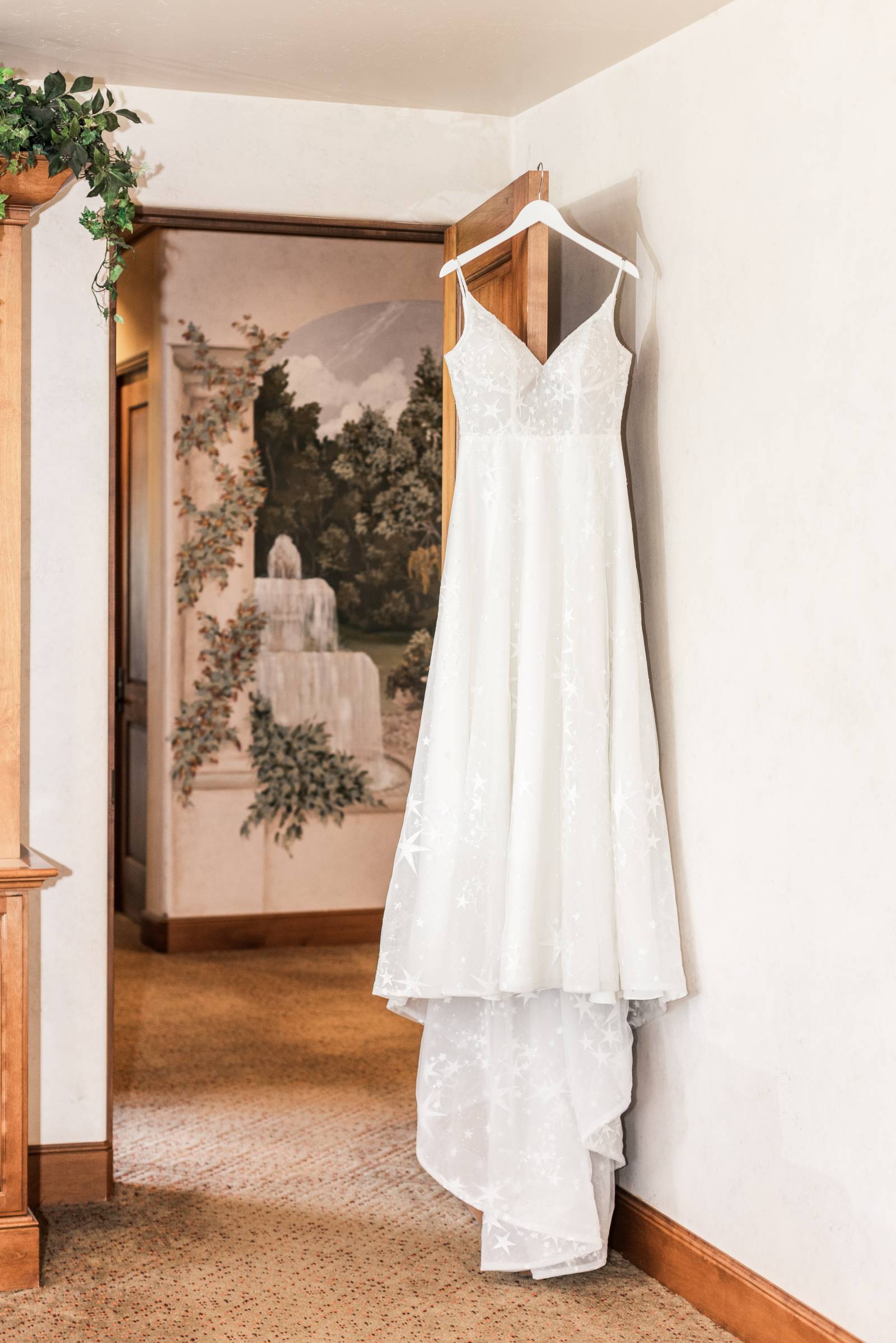 What was the vision for this shoot?
This inspiration wedding is a celestial type of wedding and was inspired by a love that was written under the moon and stars. When planning we wanted a young, fun, playful, strong, and everlasting love to be presented. Throughout the design you will see elegant, sparkly, soft, and intense colors and textures. The floral designer Nia from Xquisite Floral curated the look of opulence with rich tones and textures. She used blue tones to bring to mind the feeling of calmness and serenity as well as adding purple tones which are often associated with royalty, nobility, and luxury. The wedding dress provided by BellaSposa Bridal had star-shaped appliques that seem to twinkle throughout the skirt as it flows to an elegant train. The tulle skirt is layered with elegant glitter tulle in such a way that the design gives off the most subtle icy-blue hue.
We chose South Hills Country Club located in the city of West Covina because of its beautiful scenery. With its elegant spaces and their outdoor space, it was the perfect location for this inspiration shoot. This special day was captured by Kristen from Veils and Tails Photography.
What was your inspiration for the design?
I wanted to create something different from what was out there. After searching all types of weddings I chose the celestial type of wedding as it is inspired by the stars. I found the theme very romantic and elegant and wanted to create something special, a work that I will fall in love every time I look at it. This design included a lot of star and moon details, and a lot of sparkles. I chose to do an inspiration shoot that not only included the bride and groom but also the bridal party, to capture different type of emotions that includes a wedding. For me a wedding is a very special day because is a day where we celebrate the love of two people that are destined to be together for life. I thought this moon and stars inspiration was perfect to express love.
What details were you most excited about?
What definitely put that touch of elegance in the styled shoot were the floral arrangements - the arch was crescent shaped and we wanted to create an elegant and romantic look. Another detail was the mobile bar which brought a trendy and modern look to the shoot. We created a signature cocktail named "Love Under the Moon and Stars." Choosing the dress was an adventure, I wanted to choose the perfect dress for the theme and when finding this dress with star-shaped appliqués I knew that was the one we had to use.