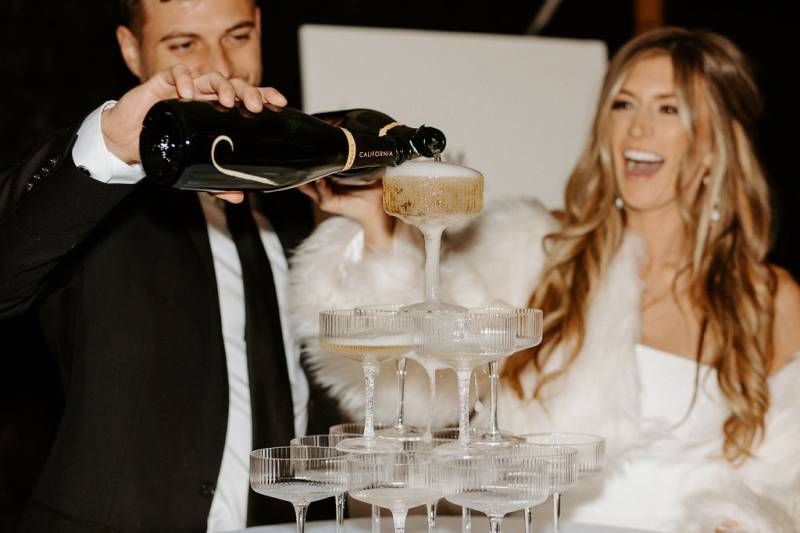 What's a better way to ring in the new year than joyously celebrating with all of your loved ones on the best day of your life? A New Years Eve wedding is highly desirable to some people, and there's no surprise to why. Crossing the threshold into marriage at the same time as a new year could feel like the ultimate new chapter. This popular idea can have many beautiful moments, however it can have its trials as well. We came up with a list of pros and cons to having a New Years Eve wedding.
Keep scrolling to read more and see if it's the right fit for you!
Pro: The Ultimate New Years Celebration
Trying to figure out plans for New Years Eve can be overwhelming. Celebrating your love with your family and friends is not just a memorable and exciting New Years for you and your spouse but for your guests as well. With that, you can't go overboard with the sparkle or glam. You now have the perfect excuse for over the top decorations and features like dramatic sparklers, disco balls, neon signs and champagne towers.


Pro: New Year, New Marriage
If you're the type that loves new beginnings, this is the perfect way to start your marriage. It's like hitting a refresh button and moving into a new milestone, both in your life and on your calendar. Plus, you will never forget your anniversary!
Pro: Get Creative As You Want
Your vendors are working on a special holiday and will feel inspired to help you be as creative as you want! Come up with intricate decor details and make sure your photographer gets every angle of it. You will always look back and appreciate the uniqueness of it all.
Con: Unpredictable Guest List
When it comes to the guest list, you might need to lower your standards. Flights are expensive and your out-of-town loved ones might not be able to afford making the trip. Some other guests might already have plans for New Years Eve depending on how far in advance you plan, and then there are a select few - the "holiday scrooges" - that simply avoid holiday events at all costs.
Con: New Years Eve Events Are Expensive
Normally, event staff is paid more to work on holidays, so you'll need to prepare to spend extra for your vendors and your venue. You'll also need to keep in mind the extra decor put into the theme, and the endless champagne, of course. Rentals can also be costly and hard to come by, so you'll need to book all of these things very far in advance.
Con: Having Your Anniversary On A Holiday
Celebrating your anniversary can get tricky on a holiday. Going out to dinner could be difficult since some places are closed for the holiday or for private events, and if they are open then they are relatively really busy or more expensive. The holidays can also be an overwhelming time for some people, and the last thing you want to do is celebrate on top of everything else. Even if you're the type of couple that likes to stay in and keep it low-key for your anniversary, you could potentially miss out on events that your friends and loved ones are going to on New Years Eve.
Overall, having your wedding on any type of holiday, especially New Years Eve, comes down to a personable preference. Everyone is different and has different wants and needs for their big day. These are just some guidance pillars for those that need it. Cheers to the new year!