One of the best parts of SLO county are the endless unique locations. After starting the day perfectly at the modern and luxurious San Luis Obispo vacation rental SLO Brew Lofts downtown SLO, Kayley and Mitchell continued their ceremony and celebration at the aesthetically pleasing, chic San Luis Obispo wedding venue The Penny. The couple were also able to sneak away for some gorgeous sunset photos down the street to have San Luis Obispo's rolling green hills as a backdrop. I was able to interview the bride about the special day.
Keep scrolling to read more.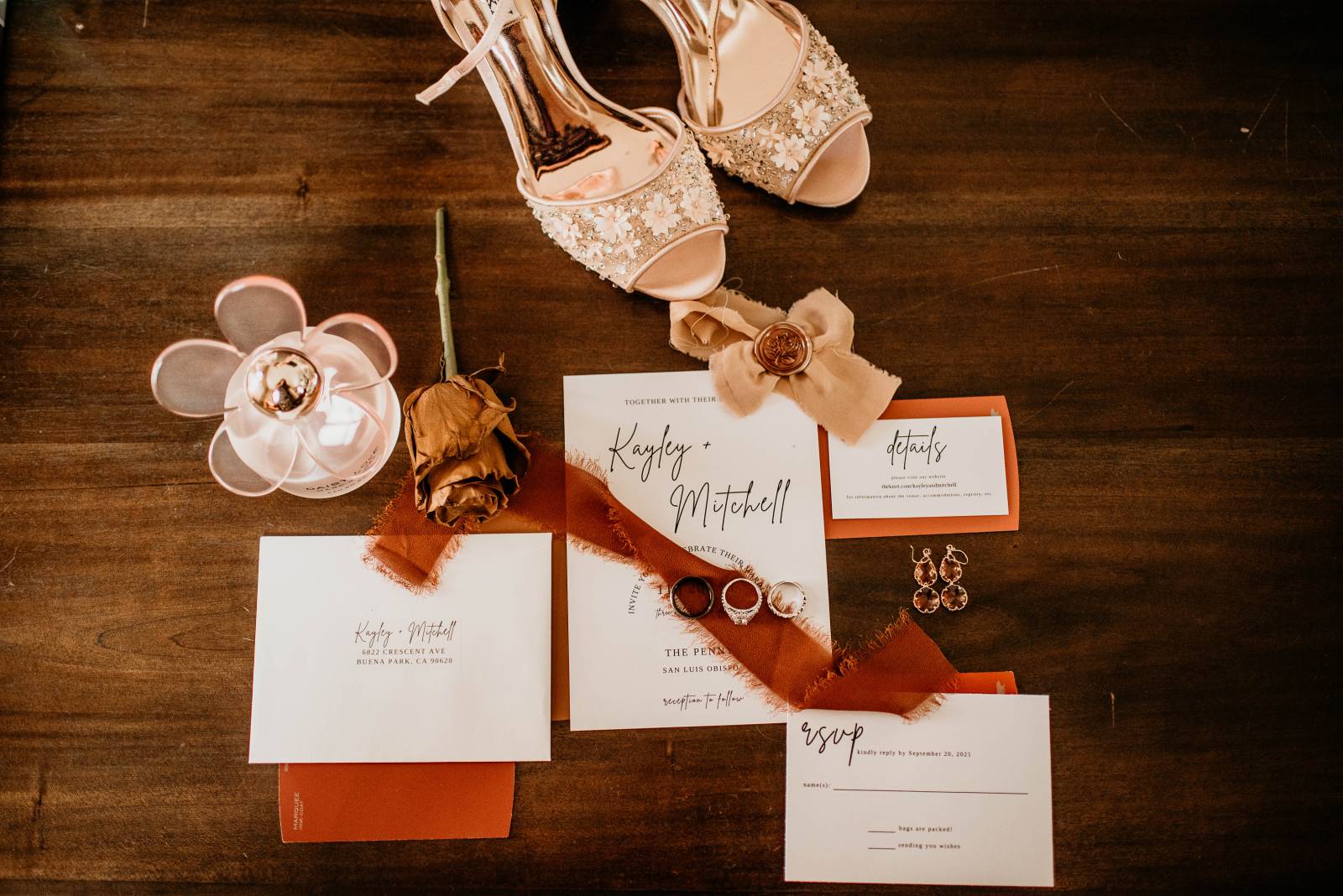 Their Love Story
"We met our freshman year of college. He was literally the boy next door and instantly became one of my best friends. We remained friends for 2 years and ended up living across the street from each other off campus. We began dating our 3rd year of college and have been together ever since! He proposed just after our 5th anniversary in Joshua Tree National Park. This year will be our 8th year together!"
The Inspiration
"I'm a DIY person, so I knew from the beginning I wanted to contribute to everything that I could. I mostly wanted the wedding to feel personal and intimate. My husband and I have very different tastes (he likes modern and contemporary and I enjoy vintage and romantic) so I wanted to blend the two as much as I could."
Color Palette
"It was a fall wedding, so I stuck to fall colors like rust, beige, black, and gold."
The Details
"I was most excited about the table centerpieces because my sister hand crafted each piece herself. It was so much fun coordinating with her my ideas and letting her create something so personal. We also turned them into gifts for our parents and grandparents and they each got to take a piece home!"
Memorable Moments
"We did a first look which was very special because we were both so excited to see each other before I walked down the aisle. It gave us a chance to get out some nerves and spend some alone time before the ceremony started. He also presented me a gift (an emerald ring) which made the moment even more special. After the ceremony, we also snuck away with our photographer and took sunset pictures at the base of a mountain close by the venue. It was the perfect thing to do following the ceremony."
Knowing what you know now... what advice would you have for other brides planing their wedding?
"My biggest piece of advice, especially for the other DIY brides and grooms, is to enlist friends and family for help! Also break up each task into smaller tasks so that it doesn't all seem so daunting when getting started!"
What was the most challenging part about planning your wedding?
"Trying to stay in the budget."