Warm Sunday mornings are my favorite. This particular Sunday morning has presented t-shirt weather, and I'm walking up the path into the heart of Higuera Ranch, eyeing an adorable vintage truck and fumbling through my partially-memorized interview questions for part-owner Kristin Pinter.
As my gaze scans across gorgeous green pastures and vineyards, a smiling Kristin greets me in front of the red barn, cowgirl boots and all. She leads me into the lofty building, promising a property-wide tour shortly.
As we settle into bar stools along the barn's long oak bar, I ask Kristin to start from the very beginning - I want the full story on this little slice of heaven.
"Well, there's two families that own the ranch, both involved in the cattle and dairy industry in the Central Valley," she begins. "Our family was just looking to get a little rental as an investment, and the other family wanted to buy a vineyard. This ranch was a vineyard back then [in 2014] and they asked if we wanted to buy it with them. We had been thinking of something more beachy, but we said sure!"
The plot of the story veered away from vines and wine when California decided to intervene. "We bought a vineyard in a drought, so we had to pull out ten acres of vines right away," Kristin explains with a laugh. "We had to kind of rethink our business plan. We started doing vacation rentals out of the two houses, which were already here."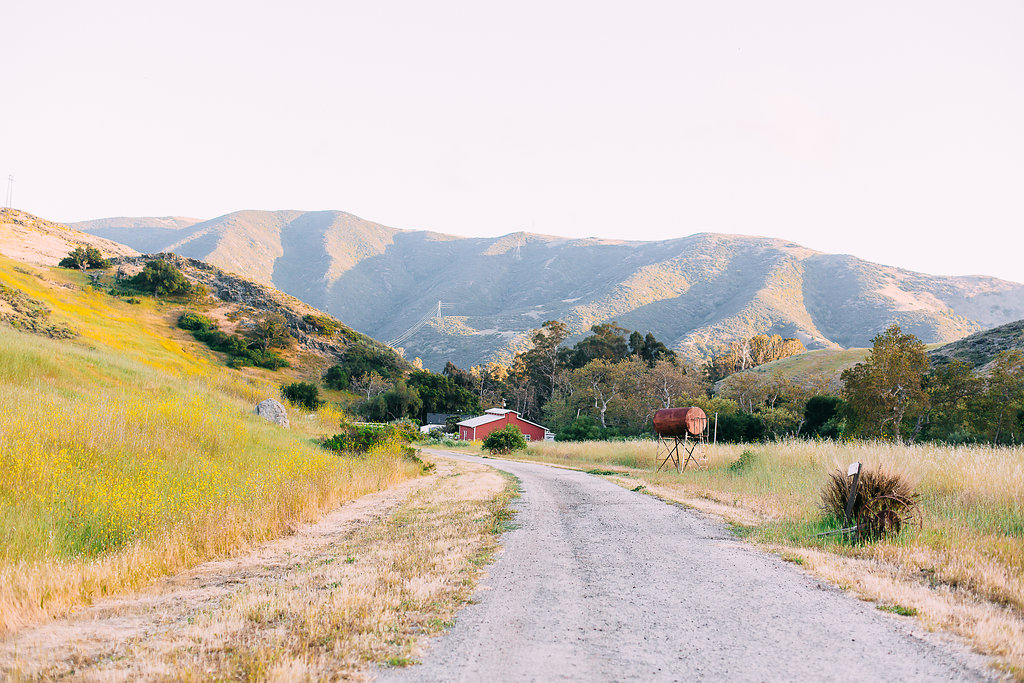 While the ranch homes became popular for vacations, it was something else that caught the eye of some of the visiting guests. The original 1904 dairy barn, which lies at the front and center of the property, appealed to many as the perfect spot to say their 'I do's.
Kristin tells me that they were originally surprised with the interest in using the property as a wedding venue. "We started having people ask if they could get married here in the barn, and it's just a dairy barn! It still had stalls and we were like, 'Sure...really?' It didn't look anything like what it does now."
"As more and more people asked about weddings, we decided to shift to the whole destination weekend. We still really liked the idea of them staying in the houses." And so it began - Kristin's vision for the ranch was to offer a rustic wedding venue, still with all the perks of a long weekend vacation.
I asked Kristin to walk me through a typical wedding weekend timeline, just so I could get an idea of everything that goes into a destination wedding, Higuera style.
"What we tell our couples is that we want them to utilize the ranch the whole time," she explains. "Usually on Friday morning, the bridal party will come and either swim or be at the shooting range, or just hang out on the property and do a picnic. They'll typically do the rehearsal dinner right here at the red barn, or up at the pool that night. On Saturday morning, hair and makeup will arrive, and the bride and her party will be in one house with their mimosas getting ready, while the guys are in a total separate area doing their guy thing."
The details of the ceremony and reception are completely unique and imagined by each couple, with 80 acres of possibility waiting as their canvas. "We don't do cookie cutter here. Couples can come on and dream and do their ceremony wherever," Kristin says. "We've had some couples that find a field somewhere on the ranch and they love it, so they put down some boho rugs and chairs and go for it! We've had ceremonies everywhere."
In addition to the endless locations for the ceremony, Kristin also hopes that guests will use and enjoy as much of the ranch as possible over their wedding weekend. A shooting range, hiking trails, horseshoe pit, pool, jacuzzi, and outdoor barbecue area are all options for the bridal party and friends, before and after the wedding.
"We encourage people to utilize spaces other than where they are getting married, so that when guests are coming, they get to see a different piece of the ranch every time," Kristin adds. "It's non-stop. Wedding weekend is fun! There's always something going on."
And the party doesn't have to leave with the wedding guests! With a huge smile, Kristin continues into the post-wedding activities, which I can only assume is one of her favorite parts.
"The cool thing happens after the wedding, when all the guests leave, and the wedding party stays and goes to the pool to continue the fun! The next morning, they can do a lowkey brunch and open gifts," Kristin says. "I love the relationships that grow over the four days. You have two families that are now one, and they can just sit by the pool and share memories from the night before."
Between all the beautiful weddings she's been a part of - all the food and drinks, dresses and dancing - I have to wonder what Kristin's favorite part about her job is. Can she even narrow it down?
She answers without hesitation. "Once I got to meet some of the couples and see their joy, it became addictive! And if the main house walls could talk... I just love all of the memories that have been made there. That's where mom sees her daughter in her dress for the first time, where grandma told some sweet story. I love those memories."
Capturing the love in Kristin's voice as she talks about the ranch and the special things that happen here is a daunting task - words on paper just don't suffice. She melts at the memories of a bride and groom's first look, and adores the hugs between father and daughter. She collects little moments like these, and it's easy to see how much of her own heart is right here on Higuera Ranch.
With a smile that has lasted throughout the interview, Kristin wraps up our conversation with the perfect description of what she does here for so many couples. "We want the ranch to feel like home for couples. We get to bring dreams to life here, that's what we do...it's not even a job!"