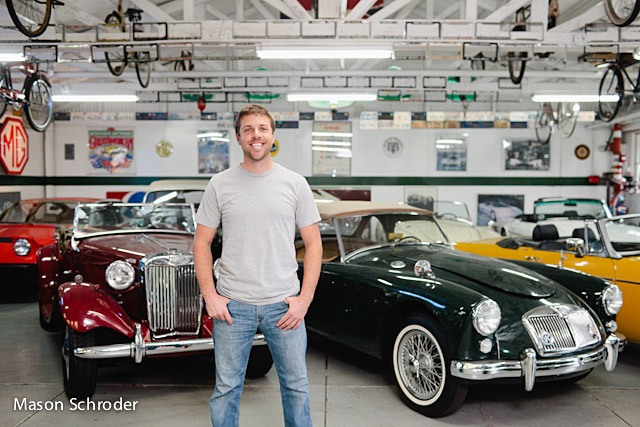 TRANSPORTATION | ARTIST INTERVIEW ///
Justin Jurgens is a classy fellow. It makes sense that he was practically raised in San Luis Obispo's most renown classic sports car shop. Justin has brought a much needed service to the Central Coast. Couples for years have been searching for classic car rentals for their wedding day transportation. If you spend any time with Justin and his cars you will instantly know that he LOVES what he does. He is still just a big kid playing with toy cars. Having Justin pick up the bride and groom in one of his vintage cars is one of the most dramatic exits I've seen at a wedding in awhile. Read more and get to know Justin for yourself!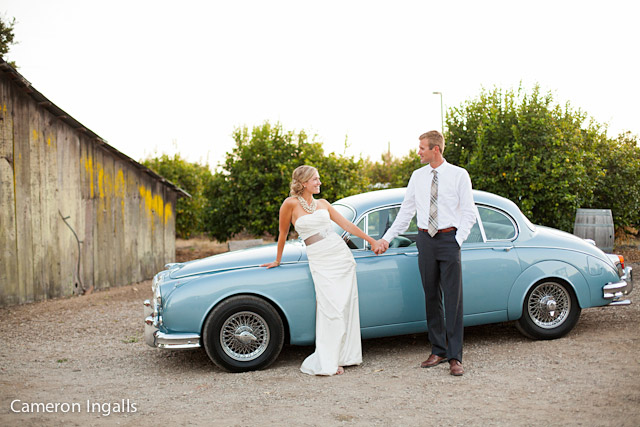 How did you get started in doing what you do?
My Family owns and operates British Sports Cars in downtown San Luis obispo so I have been around cool old cars my entire life. Over the years I was asked by many people to rent cars for their weddings but would only do it for family and friends. I always had fun doing it so I thought why not make a business out of it.
Do you consider what you do as an art form? (if so... explain)
What I do is not exactly an art but the cool old cars we provided are certainly a form of art. The restoration work that goes into restoring each car takes a lot of skill and patience and the designs and shapes of the cars are just amazing.
Who or what continues to inspires you?
I am a huge car guy and I truly enjoy getting the old cars out and sharing them with people.
What makes your business unique?
We are very fortunate to have some truly amazing cars available and are the only company in San Luis Obispo that specializes in classic cars for weddings.
How would you describe your ideal couple?
My ideal couple has a great time with their wedding and are always smiling and laughing. Some couples get a little too intense and forget to have fun on there big day. A wedding is a day you will remember for the rest of your life so have fun with it.
What's your personal business philosophy?
Be on time, smile and have fun with it. Its my job to make everyone comfortable in and around the car. If I am not having fun with it then the job is not worth doing.
Favorite part of a wedding?
My favorite part of a wedding is at the end of the night when I get to pick the bride and groom up. Everyone is always very happy and you can see the joy in the bride and grooms faces.
Why do you... do what you do?
I do this because, as I said before, I am a huge car guy and I love getting these old cars out and sharing them with people. I have been asked to do wine tours and proms but I really enjoy doing just weddings. Everyone is always very happy and it feels good to provide a service that is truly needed.
What question do you always ask the Bride & Groom?
My job is quite straight-forward, I show up where I need to be and on time. The one thing that I always ask which usually slips people minds is: which side of the car would you like to get out of when we arrive?
First music album you ever bought?
Favorite movie or documentary?
Song that makes you want to dance like nobody's watching?
London Calling by The Clash
How do you normally begin your day?
I get a cup of coffee and start working on old cars. I repair and restore cars classic cars for a living and love it.
What do you enjoy doing on your day off?
I enjoy doing work around my house, BBQ-ing and riding my my bike. During the winter I love snowboarding.
I have been collecting antique bicycles since I was about 10 years old. It has grown to be some what of a problem as I now have over 80 bicycles dating from 1880 to about 1960. I think I need to seek help as I keep buying old bikes.
Tell us about your first job?
My first job was working for a local paint and body shop. I would prep the cars for paint during the day and at night I would work on my own car getting it ready for paint. I was 15 years old and still own the car that I prepped and painted.
What would you say is your greatest accomplishment?
My greatest accomplishment is making a name for myself in the classic car industry. I truly love what I do and work very hard to keep our clients happy. I cannot always please everyone but I sure try.
How do you sign off on emails?
If you moved to a foreign country, which one & why?
I am a dual citizen of the United States and England so I would probably move to England because I have a lot of family there and I could move very easily.
If you were an animal, what would you be?
I would be a Jaguar because they are my favorite cars.
If you were in a band, what instrument would you play?
I took up playing the guitar for a short period when I was 13 so I would probably go back to that.
Ok, tell us your Nickname(s)?
Skippy! I am always smiling and happy so a few guys I used to work with started calling me skippy and it stuck.
Tell us one thing few people know about you?
I am a citizen of the United Staes as well as England.
Wedding trend that your loving right now?
I just did a wedding the other night and the tent that was used was not really a tent at all. The tent structure was used and decorated and lighted. It looked amazing when it was all set up. You would have to see it done in person to fully get the feel.
Wedding trend that will hopefully be out next year?
I can honestly say there are no trends I do not like. Everyone has different ideas and thats what makes each wedding different.
Read the book or watch the movie?
Stranded on a desert island... list three things you'd bring with you?
Hammer, saw and magnifying glass. With these 3 things I figure I can make a home, stay warm and cook food.
Tell us your favorite song or band (new or old)... right now?
Live every day to its fullest.
What chore do you absolutely HATE doing?
I love the sound of a V12 engine starting.
If and when it happens... what do you want people to remember you by?
That I was always smiling.
What do you want to be when you grow up?
I am going to keep doing what I do now. Playing with old cars.
What would you title the autobiography of your life?
Cars, Cars and More Cars.
What was the last Movie, TV show or Book that made you cry?
I can't remember it has been a long time.
What's the hardest thing you've ever had to do?
Go to a very close friend's funeral.
Whats the greatest gift you've ever given or received?
When I was a kid I used to love the Beatles and collect all kinds of Beatles memorabilia. One year my parents got me a Beatles lunch box which is very rare. I will always remember opening it on Christmas day.
What do you miss most about being a kid?
No worries. Life was so easy.
What's in the top 5 of your bucket list?
Live in England for a period
Tell us something you learned last week?
I learned how to diagnose a BUS system fault. A BUS system is a electronic system used on the new Mini Cooper's.
At What age did you really become an adult?
I would say 20... when I moved out of my parents home and had to start taking care of everything on my own.
Where do you see yourself (or business) in the near future?
I love what I do, but between working at our family business and starting Cars With Distinction I find my self working 7 days a week. I would love to see Cars With Distinction grow to the point that I can have one or 2 employees fill in from time-to-time so I can have some time off. I have also been asked to supply cars outside of San luis Obispo county so if we get big enough I might expand the business to areas like Napa. They have lots of weddings in that area and nobody providing a service like we do.