It doesn't take much time talking withfloral designer, Rachael Manuele, before picking up on her bright passion for the whimsical beauty flowers can bring anywhere they are gathered and displayed. It's clear that flowers have been calling to her since she was a young girl. Her inspiration comes from the everyday scenes most people might miss on their daily commute. But Rachel seems to see it all and she gathers together what she finds with what she grows and sources from local farms. Her conviction for drawing from nature and protecting it in the process results in arrangements that might be atypical to what the majority of people expect of wedding bouquets, but that's what makes Eden unique. Her arrangements take on a new combined life of their own. They are unexpected and delightful just like her!
Continue scrolling to learn more about Eden Floral as well as some fun facts about Rachael herself!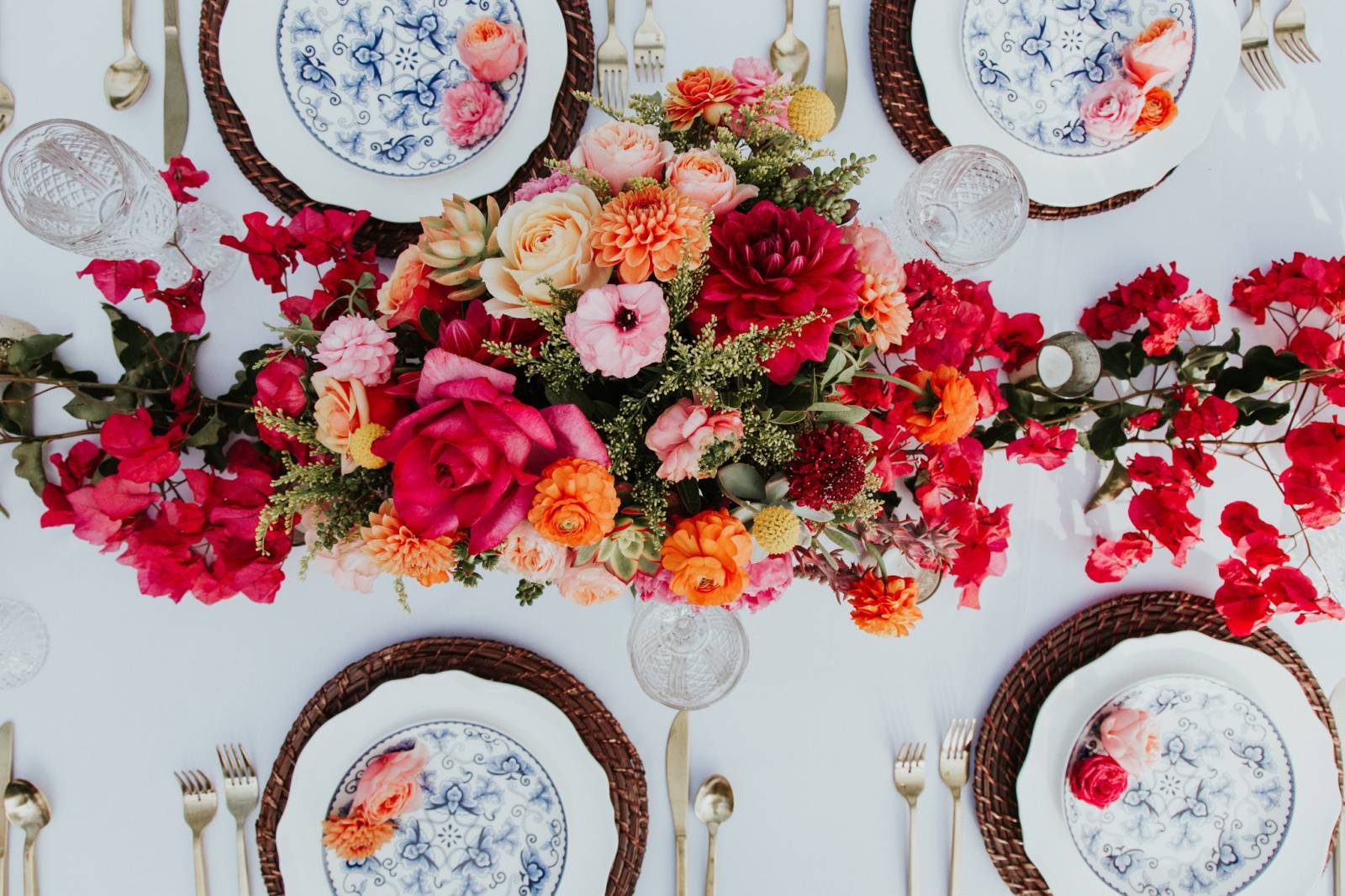 How did you get started doing what you do?
I've always had a strong love of plants and the outdoors. In my early 20's I would "forage" without knowing what that was, bringing home sprigs of sage or dried wildflowers from a hike. I'd cut a few roses and lavender from my yard plop them in a jar. It made me happy. If we were going to a gathering, I'd always bring flowers from my yard combined with fun textures and unique flowers I found on local hikes or even from my backyard. It started with friends asking me to create their Bridal Bouquets or me volunteering to put together fun collections of jars and vases for friend's weddings. I always sort of lived in my head, paying attention to the smells and textures around me on a hike or run or walk. It has become a sort of meditation, it calms me, it brings me into the moment.
Who or what continues to inspires you?
I feel as tho everything inspires me. When I jog thru the neighborhoods I notice the way the plants layer over each other and old worn out fence board, when I'm jogging on the beach I notice the colors of the sky and the reflections on the ocean, the varied greens, grays, and blues balanced with the colors of the sand and pier and rocky cliffs. On my hikes I see the dried grasses layered against the varied red and cream colored rocks, the wildflowers against the green coyote bush, the textures of the sage and buckwheat. If I'm out with friends I notice the lone rose growing in front of a white wall or the small gathering of yellow weeds and bunny tails. The colors of the Eucalyptus bark, the fuzzy top of the milkweed, the wild raspberries on my running trail. It is all so beautiful.
What makes your business unique?
Well, I'd say one of the things I have noticed different about Eden is that we forage our greens and unique elements. This takes a ton of time but it is so worth it. Not only does it help reduce the "carbon footprint" of having them delivered to our door, it creates a more noticeably unique and personal arrangement. We also grow as much as we can from seed and bulb, this helps us bring in heirloom blooms, tailored for our client, using zero toxic anything. We have a strong commitment to sourcing with our local farms. Another very unique characteristic about Eden is we rarely do more than one wedding a weekend. This allows for our attention to be focused and specific to our client's vision.
How would you describe your ideal couple?
We love to work with clients that are nature lovers. Clients that see the value in sourcing locally and clients that love whimsical, romantic, unique and fun arrangements.
What's your business philosophy?
Floral Design inspired by nature.
Favorite part of a wedding?
My favorite part of a wedding is at the end of the night, when everyone is gone, when the party has been had and it is just the two of you.
Why do you do what you do?
It makes me happy.
What question do you always ask the Bride & Groom?
What's most important to you? Throughout the planning process sometimes I see couples get overwhelmed with the details and input from loving friends and family and sometimes they just need a professional, someone that is not a part of their personal lives to ask, "what part of this matters most?" Once we know, as a team, what's most important to them, the pressure is released and everything else falls into place.
Wedding trend that your loving right now?
The "gathered-style" of florals and embracing of supporting local farms.
Wedding trend that will hopefully be out next year?
Burlap? nothing against it but I could use a break.
What would you say is your greatest accomplishment?
My relationship with my husband and kids.
What do you enjoy doing on your day off?
Anything outdoors. Gardening, hiking, running, even just drinking a beer with my husband outside.
Tell us about your first job?
I worked and got paid under the table at a family owned restaurant called the Golden Ox. It was an order at the counter but we'll bring you the food, sit down, booth kind of place. I remember one time this guy asked me for "hot mustard" and I had no idea what that was (and it was just me and the cook) so I went behind the counter, squirted some yellow mustard in a bowl and popped it in the microwave. When I brought the guy the over-heated, crusty sided yellow mustard, the kind gentleman didn't say a word. I don't think I realized what he had really wanted until my early 20's. I was 14 at the time.
OK, tell us your Nickname(s)?
Ray Ray, Babe, Mamma, Rach, I also respond to Raquel and Rochelle. I like mamma the best.
Tell us one thing few people know about you?
I hate wearing socks to bed. I love to bite pencils with my fang teeth. I am a bit of an introvert but I love to take on a dance floor if the crowd is right.
What's in the top 5 of your bucket list?
Go to Japan. Skydive again. Drive across Ireland, stay in bed and breakfasts and pub hop. Plant about 50 more rose bushes. Own property where it rains.
What do you miss most about being a kid?
Climbing trees and roof tops or just playing.
Favorite quote?
This is such a hard one because there are so so many great ones out there. It is hard to beat the quote by Maya Angelou, "I've learned that people will forget what you said, people will forget what you did but people will never forget how you made them feel". So good. I also love the Walt Whitman quote "We were together. I forget the rest."
Where do you see yourself (or business) in the near future?
I see myself on the same track but even more established. Nice and steady with a fully functioning flower farm and design studio that caters to mindful clients interested in old-world heirloom blooms, fun and unique accents and textures and arrangements that are sourced responsibly and that strike up conversation among guests.
Anything else you want to say that we didn't ask?
If you are interested in using Eden, we want you to know that we are deeply committed to our clients. It is our mission to create arrangements that strike up conversations and engage the guests.