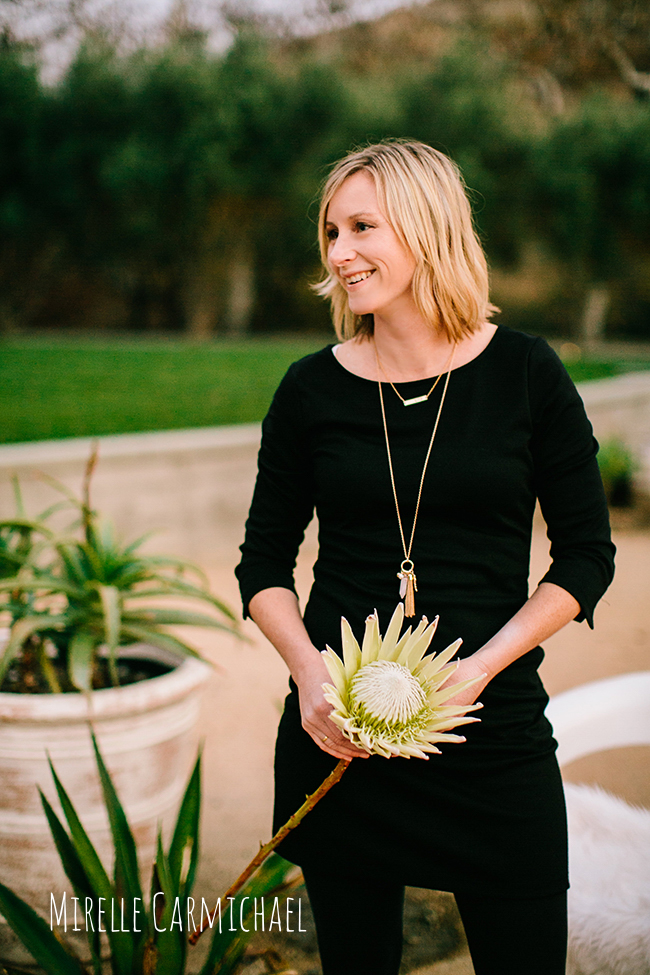 FLORIST | ARTIST INTERVIEW ///
Katie Noonan is a craftsman of modern floral art. Inspired by a childhood of playing in her parent's garden, she has been drawn to flowers her whole life. She attended Cal Poly where she pursued her floral education participating in events and competitions. Inspired by the natural beauty of the Central Coast she pursues elegant and modern design in her arrangements. She goes the extra mile to discover the aesthetic of the couples she serves in connection with their wedding venue; creating unique and personal atmospheres every time. Get to know Katie below!
How did you get started doing what you do?
Officially I got started while attending Cal Poly while taking the floral design class and I became part of the student competition team over 10 years ago... but unofficially my parents would say they knew I had a calling to work with nature and saw my passion for being outside and in the garden at a young age. I was also born into a family that likes to get their hands dirty, so I think it's in my blood.
Who or what continues to inspires you?
Nature is my #1 inspiration hands down! We are surrounded by beautiful living plants and I love to feed off of that energy and bring the outdoors inside with my design style. I also would have to say each bride creates a new inspiration; not one bride is the same and I think that's what makes this job so fun and keeps me on my toes to be more in tuned with industry trends and styles.
What makes your business unique?
I think each business is unique because of the artist behind the name. There are a lot of talented florist, but I think we each have a unique style of how we create our designs. I think it's important for brides to find a florist they connect with, one where, when they see their floral designs images or style they gravitate towards them and they are intrigued to see more. I may not have the exact bouquet a bride is looking for, but that's because I haven't designed their wedding. Each bridal bouquet represents the bride, her style and her setting.
How would you describe your ideal couple?
An ideal couple is one that trust my design skills as an artist, if they are confident in my floral design for their wedding then they will get more than they paid for. It's important to have a good relationship through the process and if they trust my eye for design and capturing the style they are looking for then they won't be disappointed.
What's your business philosophy?
Making the client happy always comes first, I think it's always important to listen to the client and then offer our professional opinion on how to bring their visions to life on their wedding day.
Favorite part of a wedding?
From my side of the wedding day, I love handing a bride her bouquet, when a bride takes a few seconds of her day to look at her flowers and tell me thank you, that makes it all worth it to me. I've even had few "happy" tears when brides have seen their flowers, that makes my year, even though I hate to make her cry I think when the flowers arrive it sometimes offers a "lighter or uplifting" side of the stress and nerves that is sometimes happening as their getting ready.
Why do you do what you do?
Sometimes I ask myself this question... but everyday I go to bed thinking of flowers and I wake up thinking about my next event and how excited I am to be designing with flowers. I love the adrenaline, I don't think you can be in this business if you don't love a good rush...
What question do you always ask the Bride & Groom?
Besides the obvious "flower & design questions" one that we always ask is what flower do you dislike or is a "must not be used"? Maybe it's a flower that reminds them of an ex or something they are allergic to, or just have a bad association with, so as the florist, we should know these things.
How do you normally begin your day?
Right now, it starts with my daughter begging for yogurt the second she wakes up - I'm not a morning person but being a mother has made me adjust and I wouldn't change a minute of it...
What would you say is your greatest accomplishment?
In my floral design career it would be earning my AIFD and CFD credentials. The American Institute of Floral Designers (AIFD), has only 1,200 AIFD members world-wide, it was one of the most nerve-racking, but most rewarding tests I have ever had to take, it's like the iron-chef of floral design....
What do you enjoy doing on your day off?
Spending time with my family usually doing simple things in life, but spending the day outside is always a plus!
Tell us about your first job?
I believe that would be working for my parents family business, they taught me the ethics that working hard pays off and I think that is one of life's greatest lessons.
OK, tell us your Nickname(s)?
Well with the last name Noonan.... there are plenty of people that just use that as my nickname and yell it as if we're on a golf course in the movie Caddy Shack, but there's also been Noontime and Katso.
Tell us one thing few people know about you?
My husband and I also have a wine label. My husband is an amazing winemaker and we took the leap to follow our passion and create a Pinot Noir only wine label called, El Lugar Wines.
Wedding trend that your loving right now?
I love the lush garden style look that bridal bouquets have been trending towards. I think in CA so many weddings are outdoors and I think it's so complimentary to the venues and settings that this style fits in well with design if executed correctly.
Wedding trend that will hopefully be out next year?
I can't answer that because even if I was to say the B-Word I actually surprise myself and even if I've done a 100 weddings with that color tone they all turn out unique to that bride and I end up loving the next one more than the last.... so trends come and go but if you design for your client not one wedding will be the same.
The creative adult is the child that survived.
What do you miss most about being a kid?
The free-spirit, roaming my parents garden and just picking the flowers without a care in the world, my mom tells me when I was little they had to call the dog in order to find out where I had wondered off to... to be able to be in that mind-set just for a few hours would be amazing.
What's in the top 5 of your bucket list?
Traveling is always a top priority! Going back to Holland and visiting the flower capitol of the world. Taking our girl to France to visit the amazing wine regions and the people we met years ago. Publishing a book of unique and inventive floral designs. Starting a flower movement that makes an impact on a community. To be happy in life itself ...
Where do you see yourself (or business) in the near future?
I am loving where I'm at and hope it continues on the central coast, but we are also looking to expand to Sonoma and Napa where my original roots run deep, so we'll see where that takes us in the wedding world.
Anything else you want to say that we didn't ask?