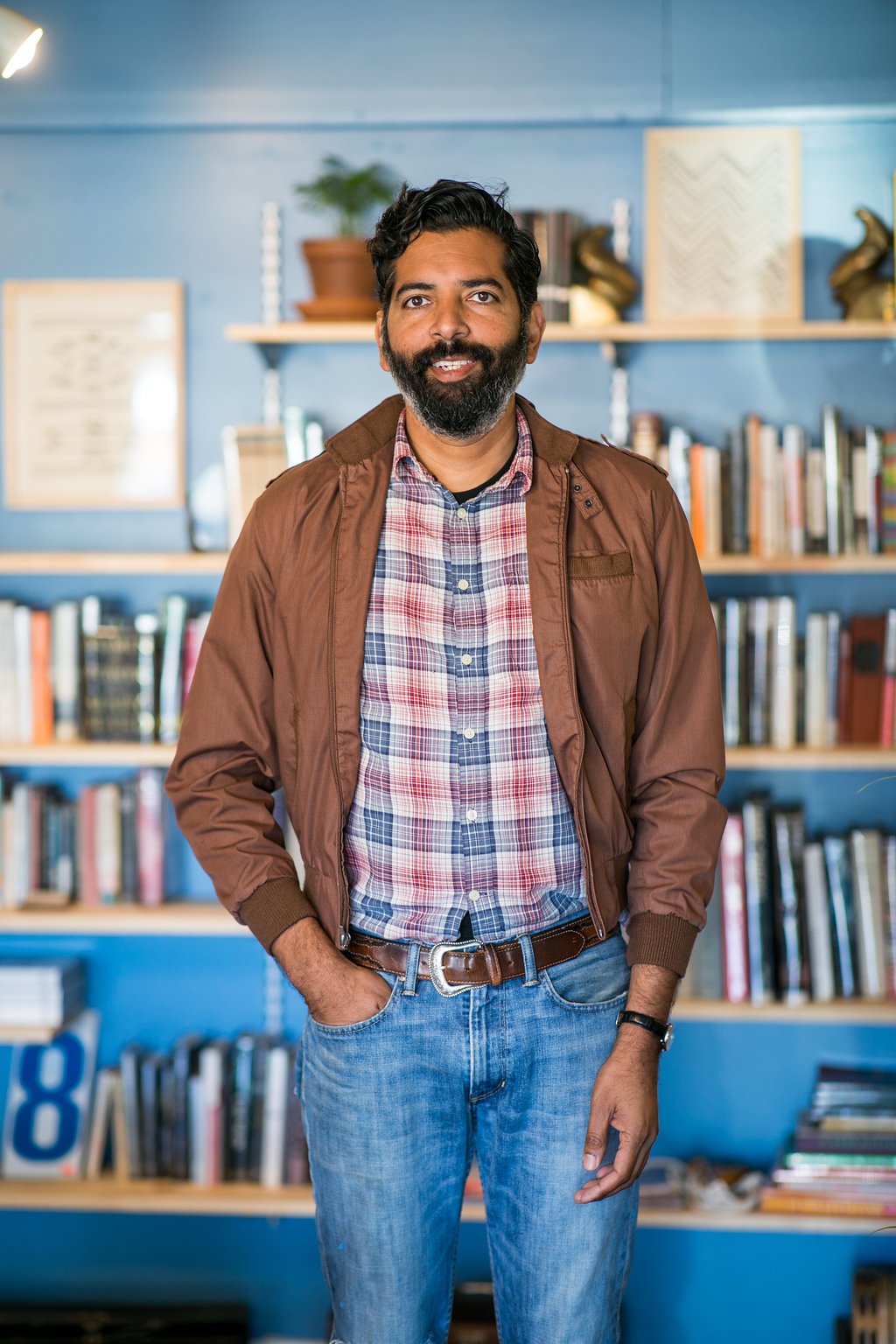 Malik is an elegant man -- dressed in perfectly-fitted corduroy slacks, a preppy button-down, and argyle socks. Bespectacled and unassuming, he's more politician-turned-professor than the DJ I was expecting. Sitting in his retail space, previously known as Appendage + Bough, Malik is both obviously tall and nearly unnoticeable. Though contradictory, Malik himself is a bit of a contradiction; he's refined to the point I'd call him a Renaissance man. He can navigate topics like literature and politics as easily as he talks about Taylor Swift and Kanye. Malik is not your average San Luis Obispo wedding DJ. An introvert with a penchant for '70s yacht rock, Malik is a quiet storm. He is soft-spoken and eloquent, though not particularly loquacious - a trait which makes him an amazing wedding DJ, maybe even the best. Written by Ashlee Phillips for The Wedding Standard Magazine Volume II and captured by San Luis Obispo wedding photographer Cameron Ingalls .
"All I want to do is talk about music and make people feel comfortable," San Luis Obispo wedding DJ Malik says. A goal that serves him well as a DJ, and though he's chosen this boisterous, extroverted hustle, he enjoys not the attention-seeking component of DJing, but the certain degree of anonymity his turntable provides. From that camouflaged vantage point, he can observe a room's vibe and feel out an appropriate playlist. He explains that his unique visual perspective allows him to align the music he plays to the moment, which is vital to DJing. "When I can feel this sort of palatable energy, there's a connection that happens. DJing elicits an energy and excitement for audiences that causes a very visual form of happiness."
Weddings, specifically, should be joyous occasions, and Malik works tirelessly to ensure the music perfectly represents a couple's day. A veteran wedding DJ, Malik understands that music is subjective, which is why he encourages people to get personal about their tastes and preferences. He wants to be prepared with the right music, the songs and artists that will elicit obvious enjoyment. "You want people to have fun," Malik says, "and as a DJ, you're trying to make a lot of people happy. If Grandma wants to line dance, but nobody else does, you let Grandma line dance." If the music he plays gets people to act out in an exuberant way, that makes for great pictures and even better memories.
Malik's natural tendency to shy away from socializing, though not typical of a DJ, is what makes him a stellar one. He's able to observe the people in a room and intuitively understand what song should be played next. Even if he gets it wrong -- though that happens less often now that he's been DJing so long -- he knows how to handle himself and the music he's playing without missing a beat.
Malik Thorne stands quietly apart in an industry of noise. Even in speaking to Malik for a small bit of his day, it was easy to see that's why he's one of the best. Because he orbits the scene, he is able to communicate with music and perfectly capture the vibe of the day. While it seems that many DJs are focused on themselves, Malik deflects attention, so he can ensure his couples are happy on their happiest day.