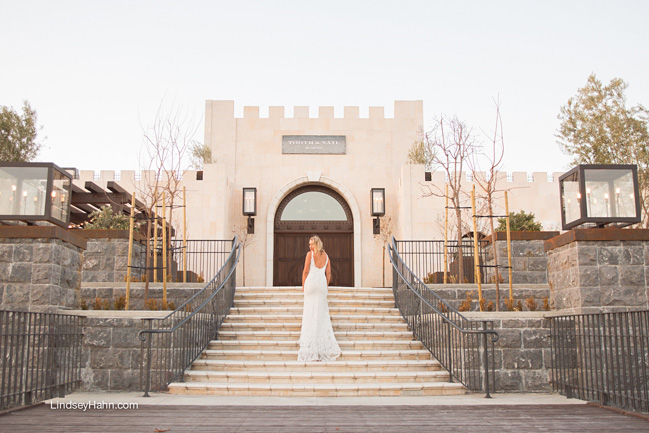 This Central Coast vineyard wedding venue is one of the most unique and surprising atmospheres on the west coast wine trail. It's an actual castle, surrounded by a moat, nestled among the rolling vineyard and oak tree covered hills of the greater Paso Robles region. The owners of Tooth & Nail Winery have recently rebranded the venue to give it a rustic and artistic vibe anchored in rich 16th century art as seen on their labels. The sunsets and views from the private terrace are unbelievable making it the most enchanting castle to throw a wedding party! Get to know this venue and do a little wine tasting while you're at it.
What is your venue's history?
Our venue is rich with history in the sense that we were fortunate enough to take over the former Eagle Castle. Staying in line with our branding, we recreated the venue and remodeled to truly reflect Tooth & Nail. Now, as we book private and public events, we keep history in mind at all times. It is beyond exciting to be a part of this spectacular community of wineries, wedding and event vendors and such like minded artists. Now with each couple we meet with and each event we host, we know that they are each history in the making!
Our brand Tooth & Nail and each of our other three labels, including Force of Nature, Stasis and Amor Fati, our all based in history! As a company, we have been making wine since 2007. Our owner is first and foremost a grower and a farmer. We own 1,000 acres of vineyards from Santa Maria to Paso Robles. In an effort to always over deliver and exceed expectations, we hand select and use 5% of the grapes to make our four labels. Our labels are all public domain art, some 16th century wood block prints and some from James John Audubon, the naturalist and painter, each label telling a story and prompting stories amongst the people who drink and enjoy the wine.
Describe your atmosphere and feel...
The atmosphere at Tooth & Nail is romantic, unique and very, very cool. How many venues can offer a castle with a moat? Beyond the castle, however, the interior has been recreated to be warm and inviting with a hip, sophistication and romance where ceremonies can take place on a private terrace overlooking vineyards and rolling hills (the view is truly spectacular), and couples can make their grand entrance on a cat walk overlooking a grand foyer where guests await their arrival. Then, with Tooth & Nail Wine Stewards waiting with wine in hand, the reception begins in our Amor Fati room (meaning love of fate). The Amor Fati room offers a beautiful, elegant setting with wood beams and French doors all around that lead out to the terrace that overlooks the moat. At Tooth & Nail each wedding and event is unique and our professionals make it their goal to help to create a look and feel that goes beyond the building and the rooms, but is more personal and intimately represents each couples love story.
Up to 500 with indoor/outdoor seating.
What amenities come with the venue?
Amenities included in venue fee:
o Private Tasting to determine which wines to select for the event
o Use of upper Terrace, Amor Fati room and terrace.
o Set up and tear down for ceremony and reception space
o Two hour time period for engagement photo session with photographer
o 1.5 hour for Rehearsal Time on site and option to host Rehearsal Dinner on site
o On-site Tooth & Nail venue staff
o Six hours on site for actual ceremony and reception plus time to decorate and get ready at no additional fee
o Use of Private Bride and Groom's Rooms
o Use of private, secluded entrance for bride and bridal party
o Tables and chairs for up to 150
o Professional beverage service including beer, wine and appropriate crystal
o Ample parking for guests
o 20% off all wine purchased for any wedding events/activities such as engagement party, showers, reception...
Tooth & Nail Winery offers 9,000 square feet of wedding and event space. With this comes flexibility. Ceremony location options include:
o Upper Terraces that can seat up to 225
o Amor Fati room that can seat up to 300
o Amor Fati front Terrace that can seat up to 500
o Amor Fati side Terrace that can seat up to 150
Does your venue include a day of Coordinator?
Do you offer your venue for rehearsal dinners?
What rentals are included?
o Round Tables and chairs for 150
o Ceremony chairs for 200
o Bar and bar service including glassware for wine and beer
o Banquet tables for food service and dessert bar
Do you have a suite for the bride and her girls to get ready in?
We have separate suites for each the bride and groom to get ready. These suits are designed with fun and ease in mind. The groom's room boasts a space big enough for the men to get ready and an outdoor patio with furniture and games.
The bride's room is large enough for the bride and her bridal party to make them selves at home, get ready, invite hair and make up artists into the suite, have lunch and enjoy the day. Additional restrooms are available in the same building.